Sermon Notes for Preschoolers and Early Readers – Let's face it: Sitting through a church service can be hard when you are little!
Moms and dads know this – yet sometimes illness, separation anxiety, or visiting a new church forces parents to keep their little ones in the adult service with them.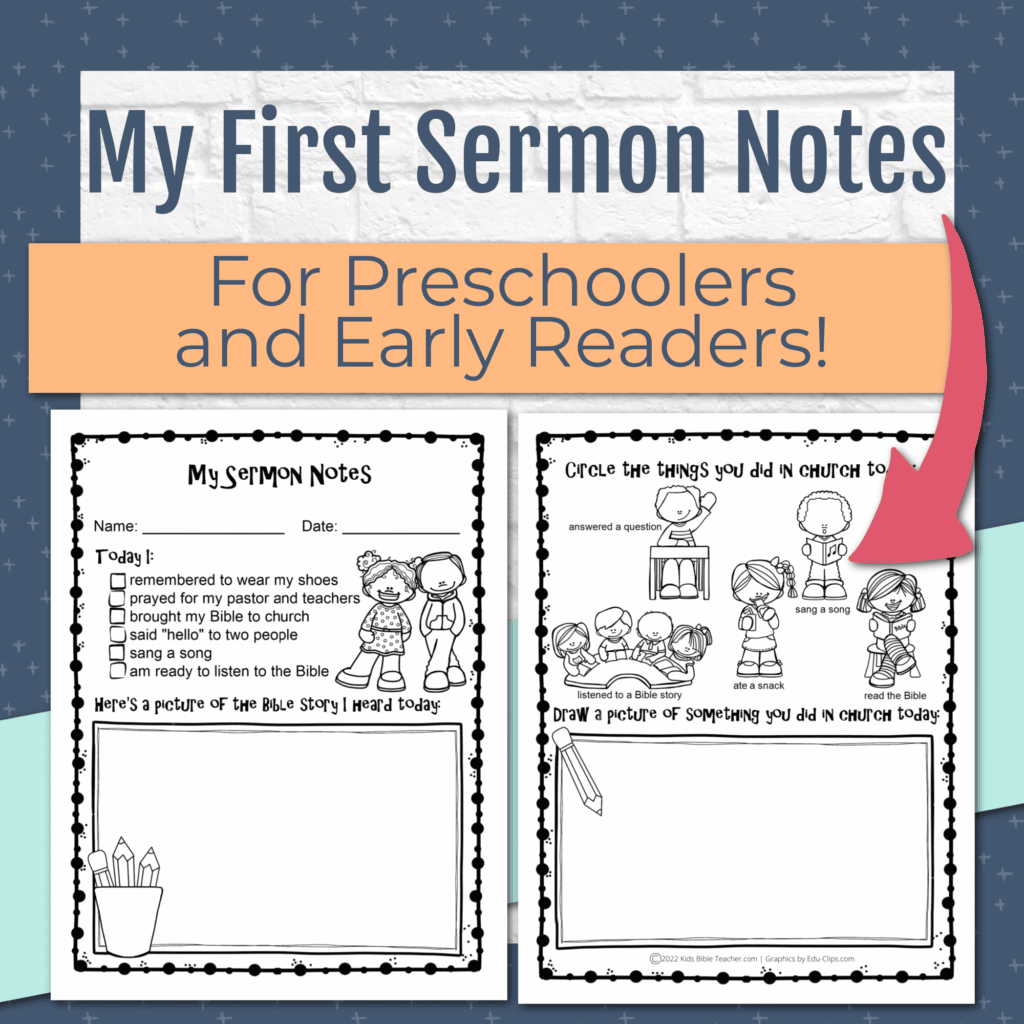 How can parents help their little ones sit quietly through a long church service? And, how can churches lovingly welcome these little ones into their adult services while also helping parents keep them quietly entertained?
The answer is simple: Sermon Notes Printables!
My First Sermon Notes for Preschoolers and Early Readers

Specifically designed for non readers and early readers, My First Sermon Notes printables focus on drawing and coloring activities.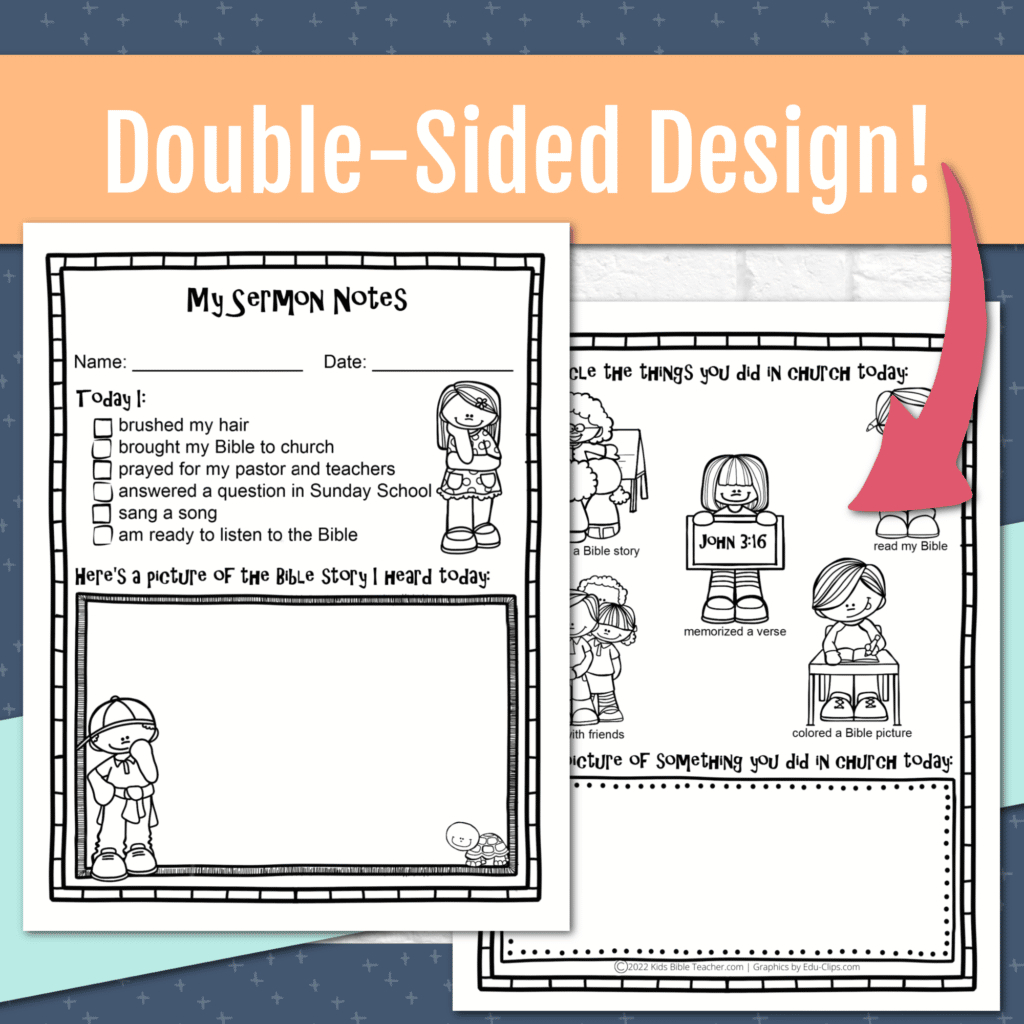 Nobody, especially a young child, wants to do the same page over and over again! That's why My First Sermon Notes Printables includes ten completely different page designs (front and back). Kids will love having different images and activities to complete each Sunday.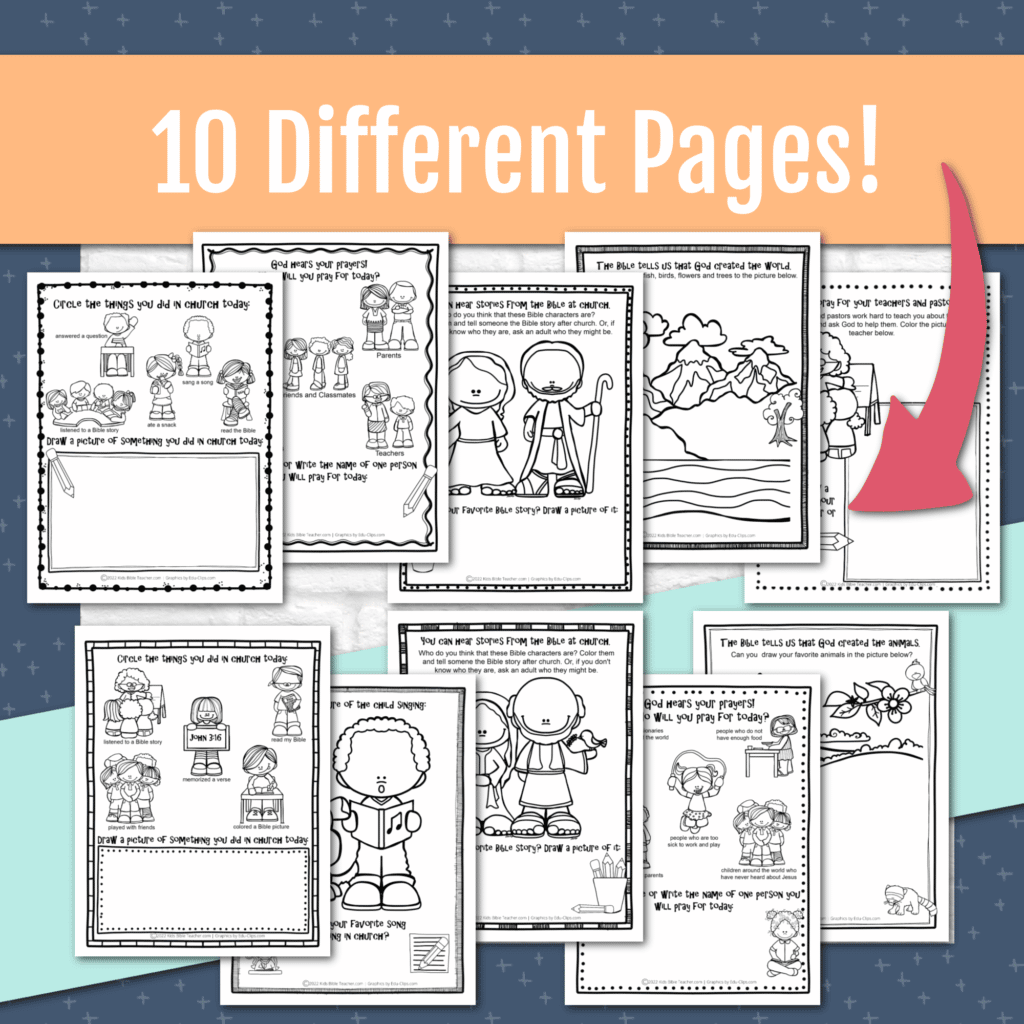 Each Sermon Notes page includes a checklist of things for kids to do to prepare their hearts for worship (plus a couple of silly things mixed in!) and a place to draw a picture of the Bible story they heard (or are hearing) in church.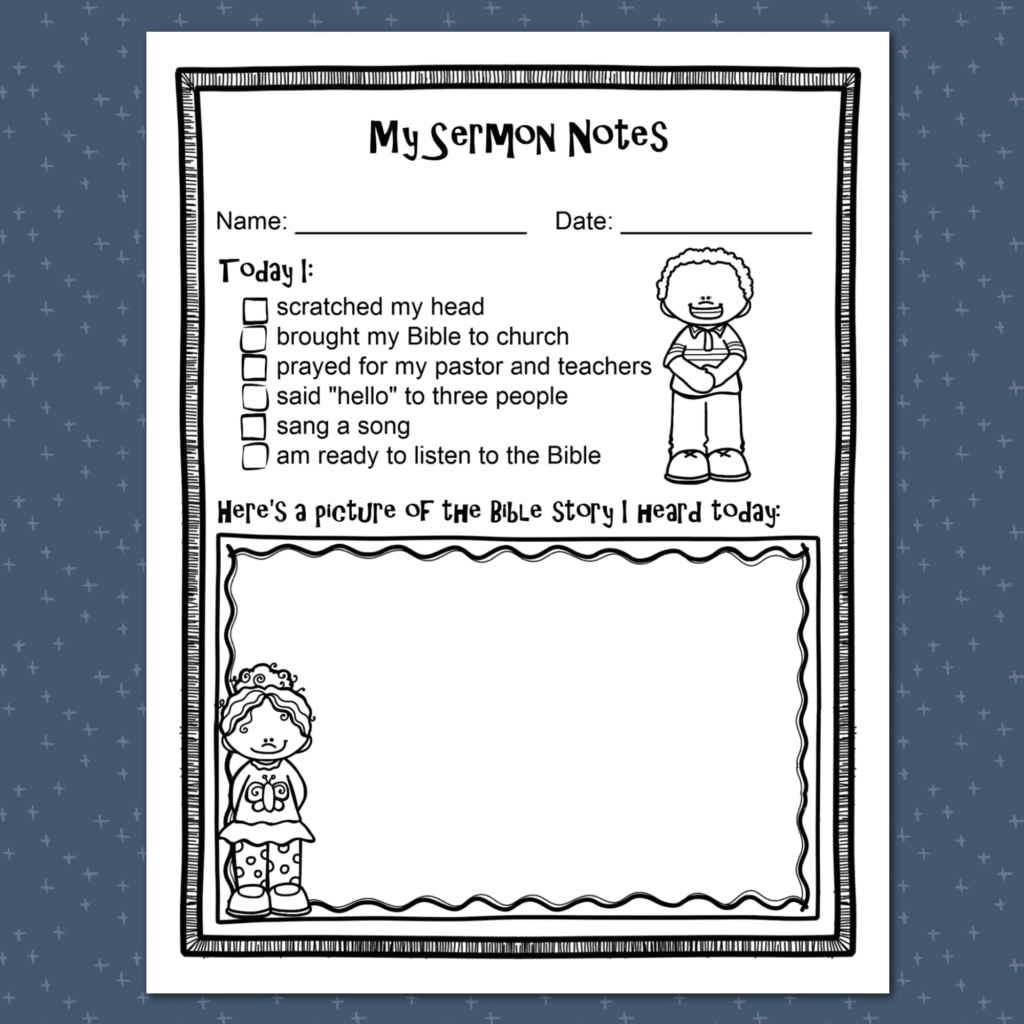 The back of the pages include activities that will encourage kids to think about the things that they did in church that day, pray for others, tell their own favorite Bible stories, or even add their own animals and fish to a picture of God's creation.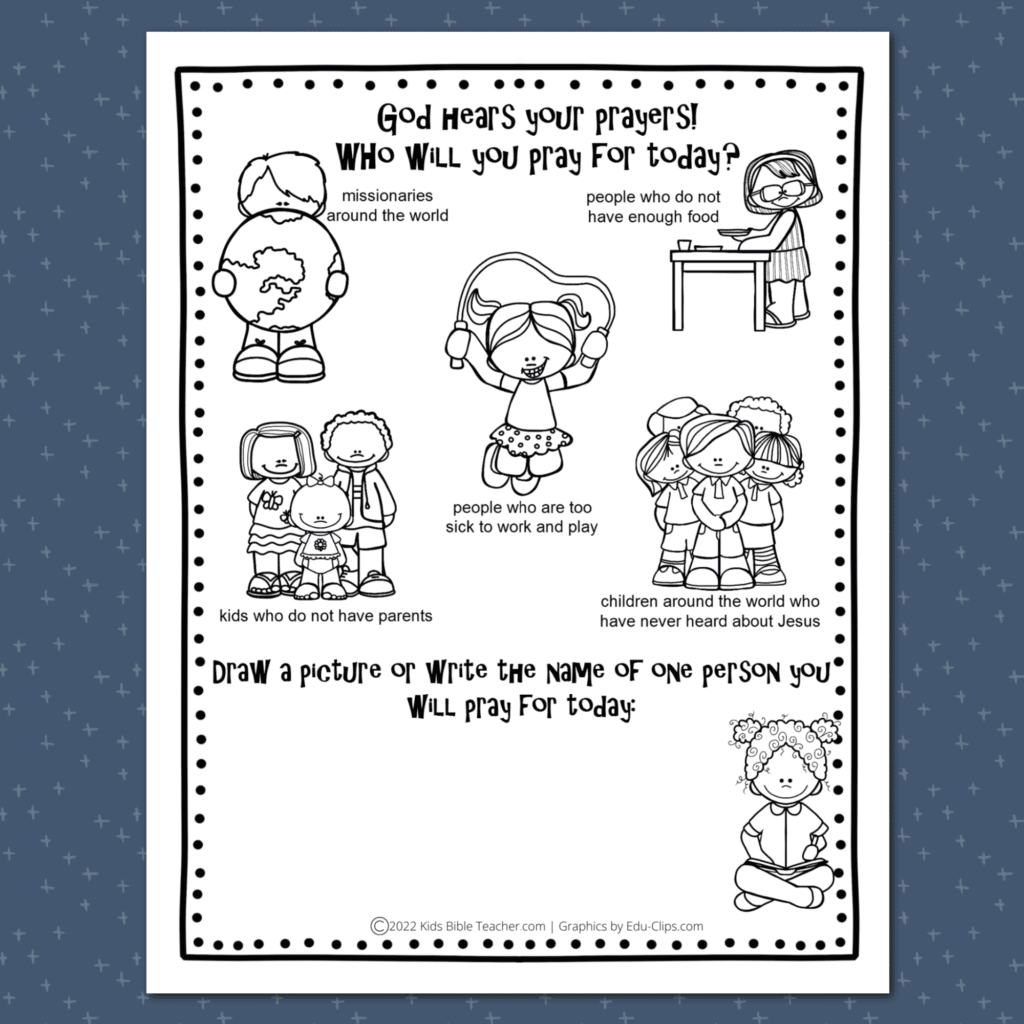 These Sermon Notes Printable pages are easy to print, fold, and have on hand in a parent's Bible.
These Sermon Notes can be handed to visiting families with little boxes of crayons as they enter the auditorium. They can also be kept in a basket with pencils and clipboards at the church welcome center. They can even be handed out to kids at the end of the Sunday School program before they enter the adult service.
Why Sermon Notes?
When a church hands parents these Sermon Notes pages, they are telling them, "Your kids are welcome here. We understand that it's difficult to keep your kids quietly entertained. We want to come alongside you and help you as you teach your kids God's Word."
And you are telling the children, "You are welcome here in our church! We care about you, no matter your size!"
Keep young children quietly entertained and encourage them to take an active part in church services – with these adorable My First Sermon Notes printables!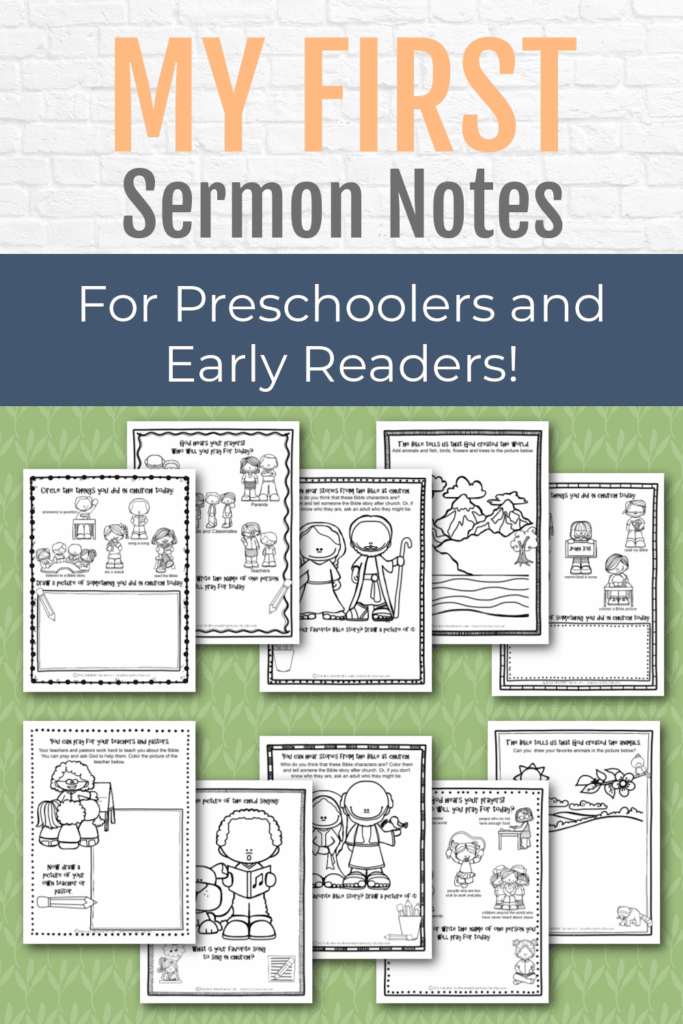 May God bless you!