Taking something ordinary and making it HUGE is always intriguing to kids. So, why not do that with a board game?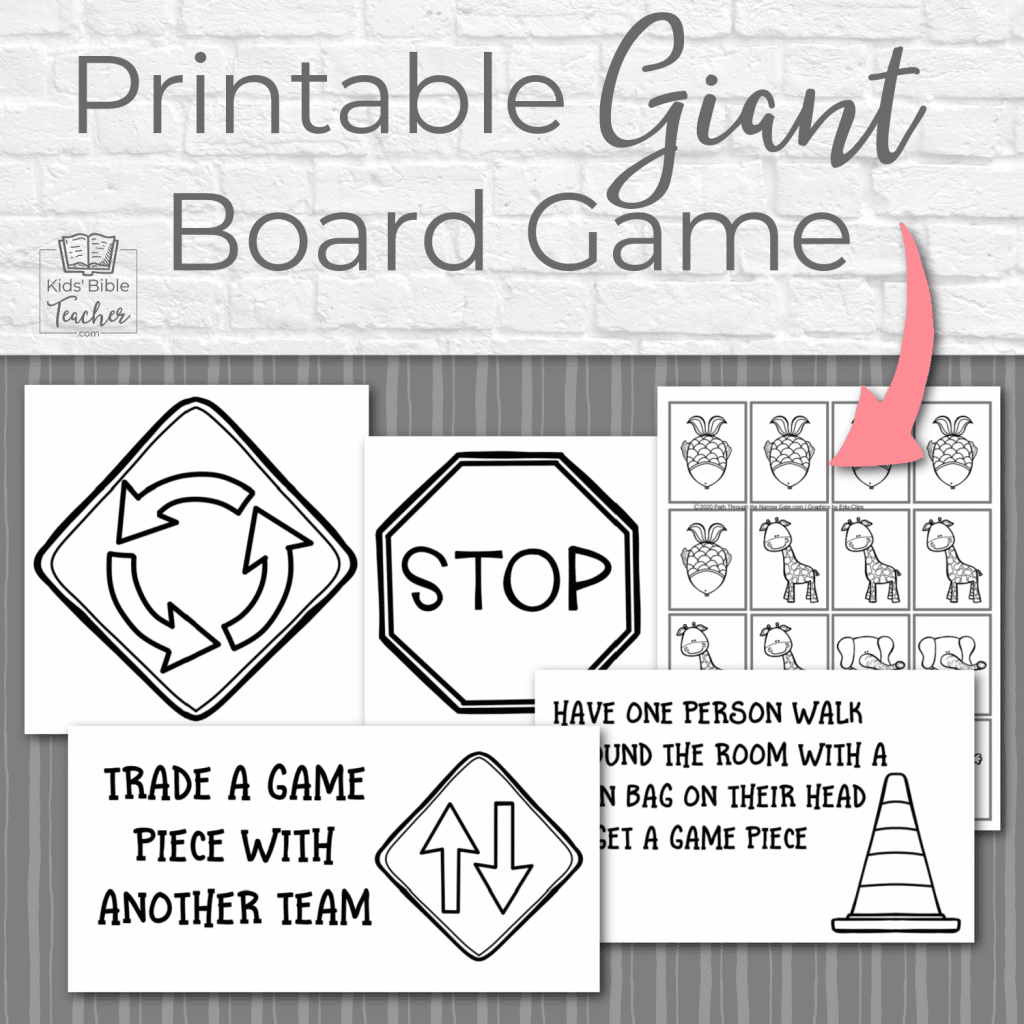 In this Gigantic Board Game, you will turn your classroom, home, church hallway, or even a gym into a huge, life-size board game. Your students will become the pawns and walk around the board game, following the path, rolling the dice, answering questions, and completing the challenges along the way.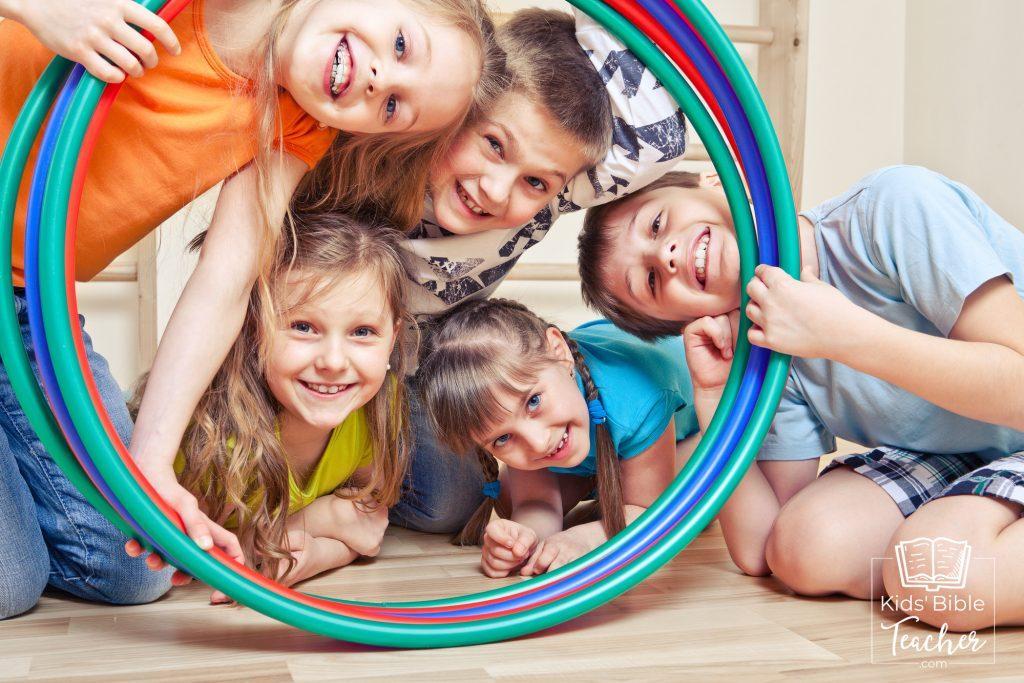 Best part? The work is already done for you!
All you have to do is come up with a list of questions that corresponds to your lesson, print and cut the board "space" pages apart, set up the challenge stations with common items that you probably already have on hand, and show your kids how to play.
To play, divide your students into two (or more) teams. Have one team answer a question. If they answer correctly, they get to roll the dice and more that number of spaces forward. If they answer incorrectly, they do not move forward.
The team will then complete any instructions on that space and their turn is over.
The goal of the game is to be the first team to cross the finish line with four different game pieces. They will gather the game pieces along the way as they follow the directions on the spaces. If they don't have enough game pieces at the finish line, they will get sent backwards to get them.
Some of the special challenge spaces in this game include playing "Rock, Paper, Scissors" for an extra game piece, whistling, challenging the other team to blow cups off a table, throwing balls into a trashcan, tossing bean bags into a hula hoop, and others.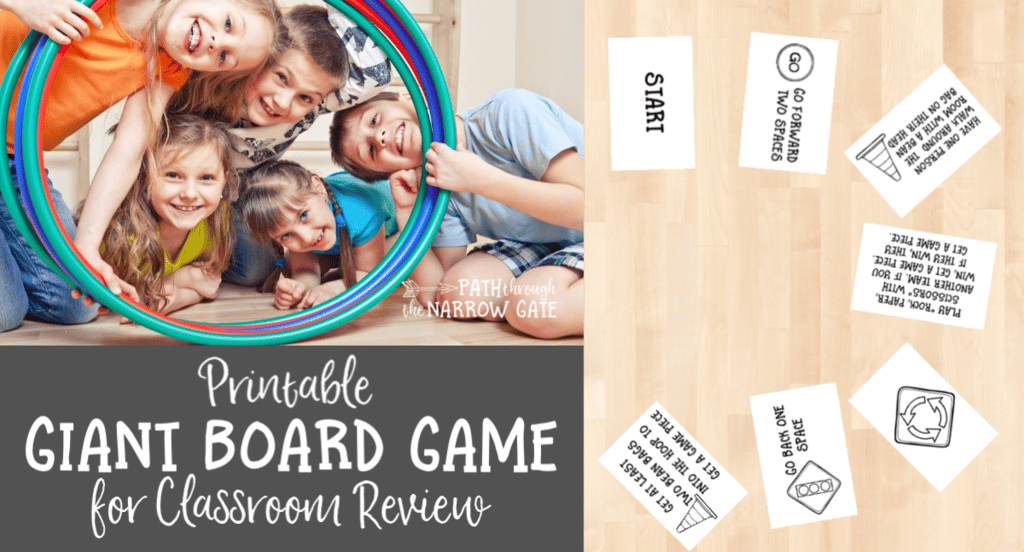 Suggestions:
Make the space cards more durable by laminating them. This game will last for many years!
This game is PERFECT for a final lesson review. Combine it with a party to celebrate all that your students have learned.
Add or subtract the challenge stations as needed to make this group suitable for your age group. If you are using this game with older kids or teens, make sure and add more challenge stations.
Younger children have shorter attention spans. If your kids are younger, decrease the length of the game by laying out fewer space cards.
This is a group play game. Encourage the students on each team to help each other out as they answer questions, to take turns, and to cheer each other on at the challenge stations.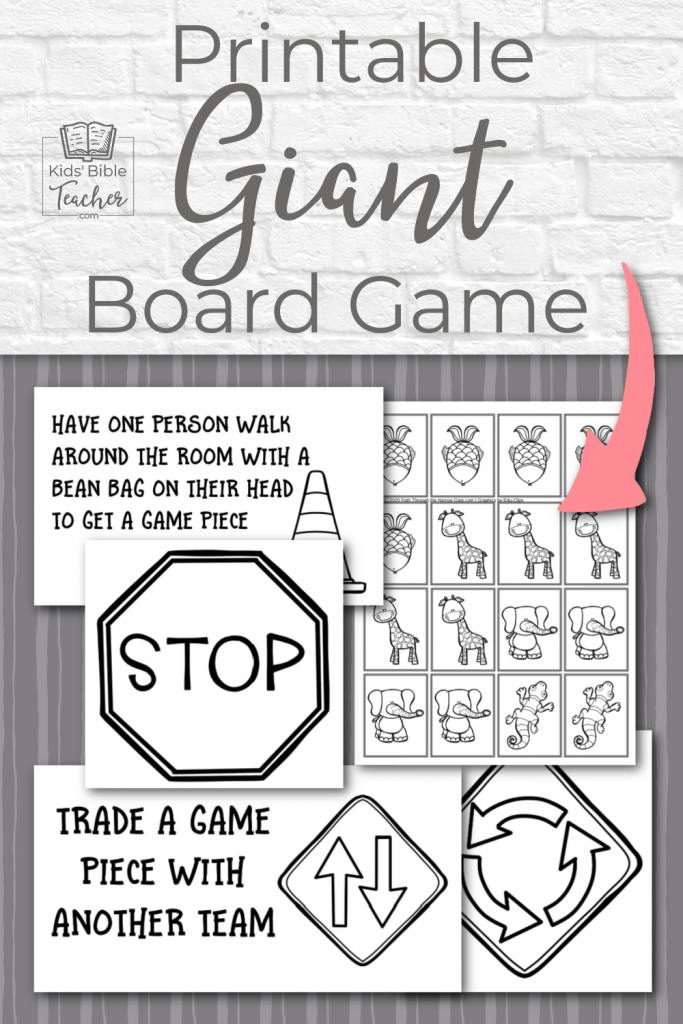 Now it's your turn. Do you plan to use the Giant Board Game? Do you have any special challenge stations that you would love to set up? Any thoughts? I would love to hear from you. Please scroll down to comment.
You inspire me everyday with your creativity as you teach faithfully teach children God's Word, and I am so thankful for you!
May God bless you!