As a woman and a mother, my life is filled with demands. I am surrounded by little people who want food at least three times a day. And clean clothes. And to know where I left their soccer cleats.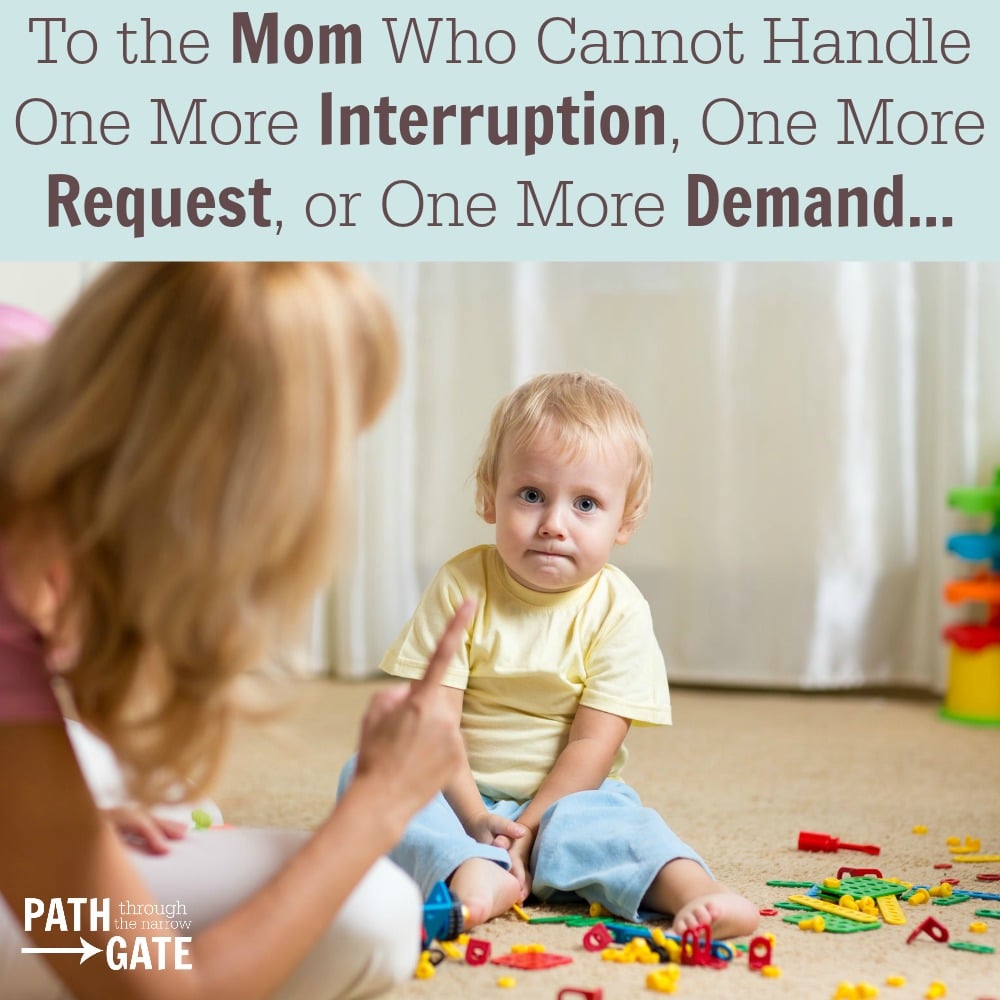 I am surrounded by little people who want me to meet their every need, to cuddle with them, to comfort them when they are hurt, to entertain them, to find things for them, and to give them my undivided attention.
I am also surrounded by adults who have their own ideas about what I should be doing and how I should be using my time.
On top of this all, I have my own expectations of what I should be accomplishing each day.
And, far too often, I get tired. Like, REALLY tired.
I grow weary of trying to meet these needs and expectations time after time, and time again.
I start to feel like an overstretched rubber band – one more tiny bit of pressure and I am going to snap, and when I do, someone is going to get hurt.
Because I seriously cannot handle ONE MORE THING, ONE MORE REQUEST, ONE MORE DEMAND!
And, when I get to this point, I find myself pushing away the people that I love. I become a human tornado, spinning around in circles, shrill and demanding, insisting that other people start pitching in and doing their part-immediately! And, finally, I dissolve into tears, throwing myself a royal pity party. "Why can't everyone see how stressed out I am? Why doesn't anyone care about ME?"
Have you ever experienced this? If you have, I want you to know that we are not alone.
Jesus Christ, the Son of God came from the peace and joy of heaven into this demanding and exhausting world.
He had people constantly making requests of Him, asking Him questions, touching Him, demanding His attention, seeking His comfort, desiring His healing, even wanting food from Him. Hordes of people followed Him from place to place.
And, all the while that He was ministering to these stubborn and demanding people, He was looking ahead to torture and death so that He might save the souls of the very people who were demanding so much from Him.
Yet, in the midst of all of this exhausting stress, Jesus never sinned. He never snapped at people. He never turned into a human tornado or threw Himself a pity-party.
How did Jesus Christ perfectly respond to the relentless demands that were placed upon Him?
1. Jesus Slipped Away to Spend Time With God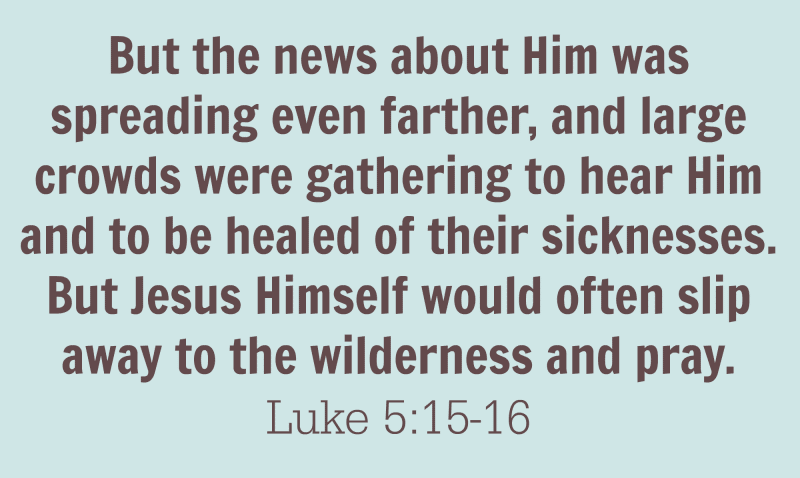 Luke tells us that Jesus often slipped away to a quiet place to pray.
You may be thinking, "I am already too busy. I don't have time for one more thing! Do you really want me to drop everything to spend time in prayer and Bible reading?"
Well, let me put it this way. If you are taking a road trip, do you decide that, because you have so many miles to travel and so little time to do it in, you are going to forego stopping at the gas station when your gas tank gets empty?
Because, honestly, that isn't a good plan.
Your relationship with God is not another obligation. God is not calling you to spend time with Him because He wants something from you. He already loves you so much that He sent His Son to die in your place. Unlike our human relationships, God's love for you is complete and perfect.
Rather, God is calling you to Himself so that He might be your source of life, strength, peace, love, and joy. He knows you can't run on empty. And, He knows that life is draining you.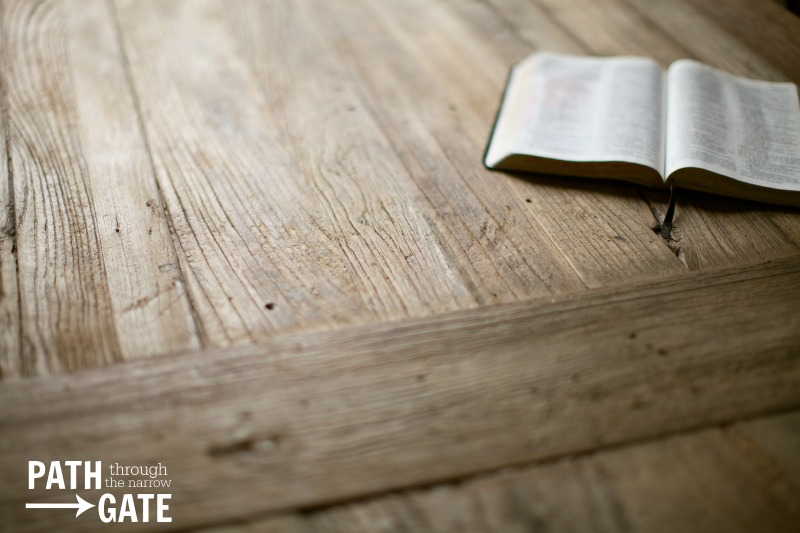 God is calling you to Himself so that you can abide in Him and be filled with life and love from Him to give to others.
Does prayer and Bible reading require discipline and time? Yes. It is a relationship. Relationships require time and discipline. Your relationship with God is no different.
However, our relationship with God, far from being an obligation, is the very foundation of our lives.
Even if it is only for five minutes, will you slip away today and spend some time with God, reading His Word and praying? Will you humbly bow your knee before Him and admit that you need His filling presence in your life? Will you commit to spending a few minutes with God each day?
2. Jesus Took His Schedule to God
In these verses, we see Jesus waking up early in order to spend time in prayer before beginning His day. As Jesus was praying, people were gathering, waiting for Jesus to come and meet their needs. Simon Peter and the disciples went looking for Jesus, to let Him know that it was time to get started on the day's work. People were waiting for Him. (Have your mornings ever gone like this?)
But, after a morning in prayer, Jesus did not immediately jump into the work at hand. Instead, He followed the will of His Father by leaving that town and going to another one. Jesus was willing to disappoint people in order to accomplish that which God had called Him to do.
Far too often, motivated by pride and the desire to please other people, we take more on ourselves than what God has called us to do.
We bring this busyness into our own lives, we neglect our relationship with God, and then we wonder why we are at the breaking point.
When was the last time that you took your schedule to God in prayer and asked Him to show you what He wanted you to get done and what you could leave undone?
Will you take your schedule to God in prayer today? Will you open your heart and humbly ask God to show you what needs to be crossed off of your to-do list? Will you ask God to help you slow down, so that you might bless the people around you and glorify Him?
3. Jesus Made Time to Get Away and Rest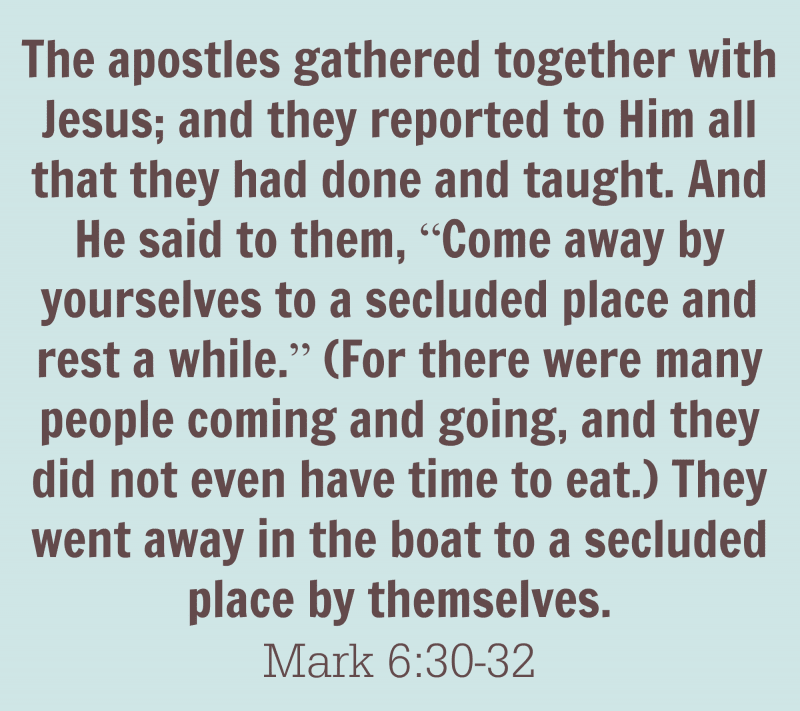 Even in the midst of intense busyness, Jesus made it a priority to take His disciples to a secluded place to rest.
We need to be intentional about setting up times to get away and rest. I know that this can be difficult, but don't use that as an excuse to not do it. If you don't get away and rest at times, you will come to the breaking point.
Maybe you need to consider swapping baby-sitting with another mom so that you can have a whole day to yourself. Maybe you need to take Grandma up on her offer to watch the kids overnight. Maybe you need to intentionally guard one late evening a week as a rest time by putting your kids to bed, ignoring the dishes in the sink,  lighting a candle, and enjoying some quiet music.
When was the last time that you got away to a quiet place by yourself?
4. Jesus Welcomed Life's "Interruptions" with a Servant's Heart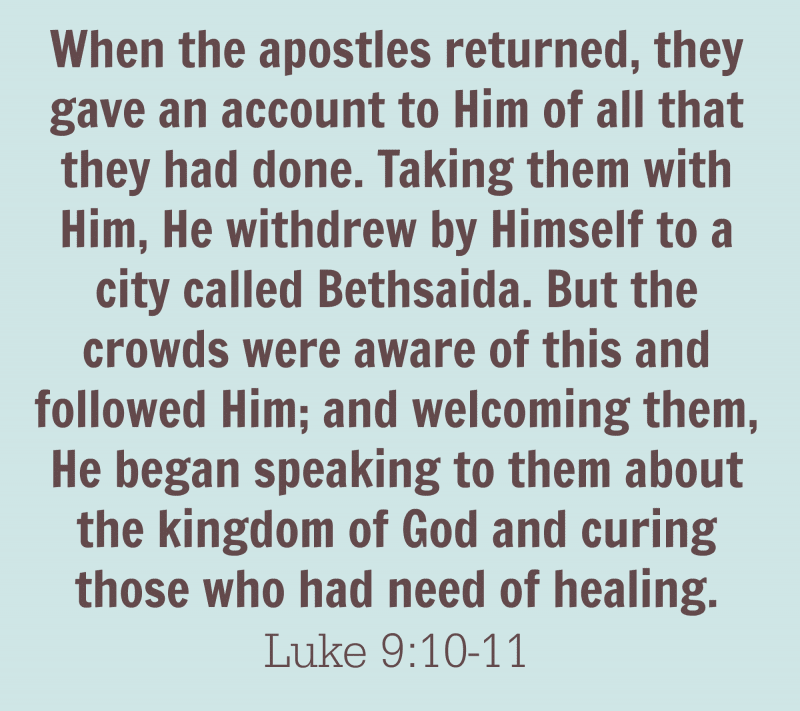 After a busy season of ministry and after receiving the news of His cousin's death, Jesus knew that He and His disciples needed some time away to rest. Yet, knowing that Jesus was moving on, crowds of people went ahead of Him. When Jesus arrived at the quiet and secluded place, He found it to be quiet and secluded no longer.
Yet, Jesus did not push the people away. He opened His heart and welcomed them. He ministered to them and met their needs with a servant's heart.
Are you able to welcome life's "interruptions" with a servant's heart? When God sends someone smack dab into the middle of your path and the Holy Spirit prompts you to minister to that person, are you able to open your heart to them, regardless of how inconvenient it might be?
Pray, and ask God to give you the supernatural ability to love and welcome the people that He has sent into your life, ministering to them with a servant's heart.
How about you?
Dear sister in Christ, are you at the point where you feel like you are going to snap if one more person asks you to do one more thing?
Slip away and spend some time with your heavenly Father today. Take your schedule to Him in prayer. Plan some time to get away and rest soon. And, ask God to help you welcome life's interruptions with a servant's heart.
More Posts from Path Through the Narrow Gate: