Start your morning off right – with a reminder to worship God for His goodness!
These adorable personalized coffee mugs are easy to make and lots of fun to use. They are a great project for young kids to decorate or older kids to write and decorate, and make really cute personalized gifts.
Personalized Coffee Mugs Materials:
1. Coffee Mugs
2. Oil Based Sharpie Markers *
3. Pencil, Ruler
4. Oven
*You should be able to find these markers at your local craft supply store. The markers have a pink circle on every package which specifies that these markers are "oil based". Regular sharpie markers will fade in the oven. I found that both the fine tip and the medium tip worked well for this project, although the medium tip was slightly easier to use.
These markers come in a variety of colors, but the black markers are best for this project. My kids had lots of fun drawing colorful images on their cups, but were disappointed when the colors changed in the baking process. (Purple became pink, orange became brown, etc.)
Directions for Personalized Coffee Mugs:
1. Decide what verse or saying you want to display on your mug. Write the verse on paper in the style of writing you will use and in the correct number of lines. Draw a line down the center of your verse. (See the examples below.)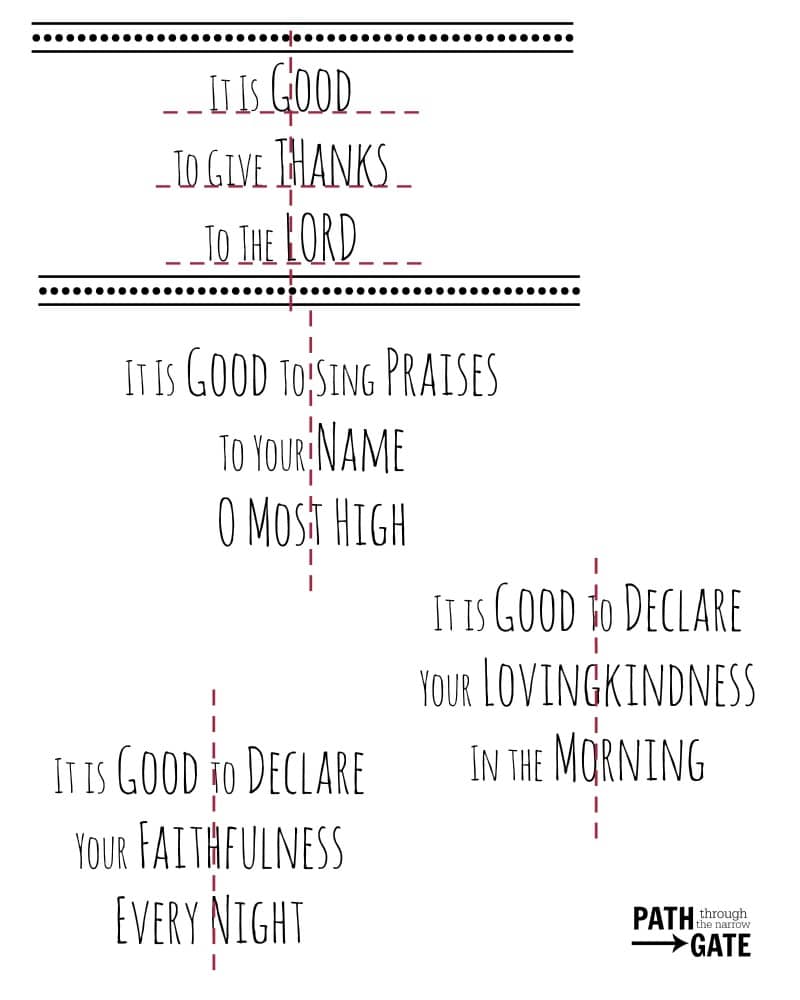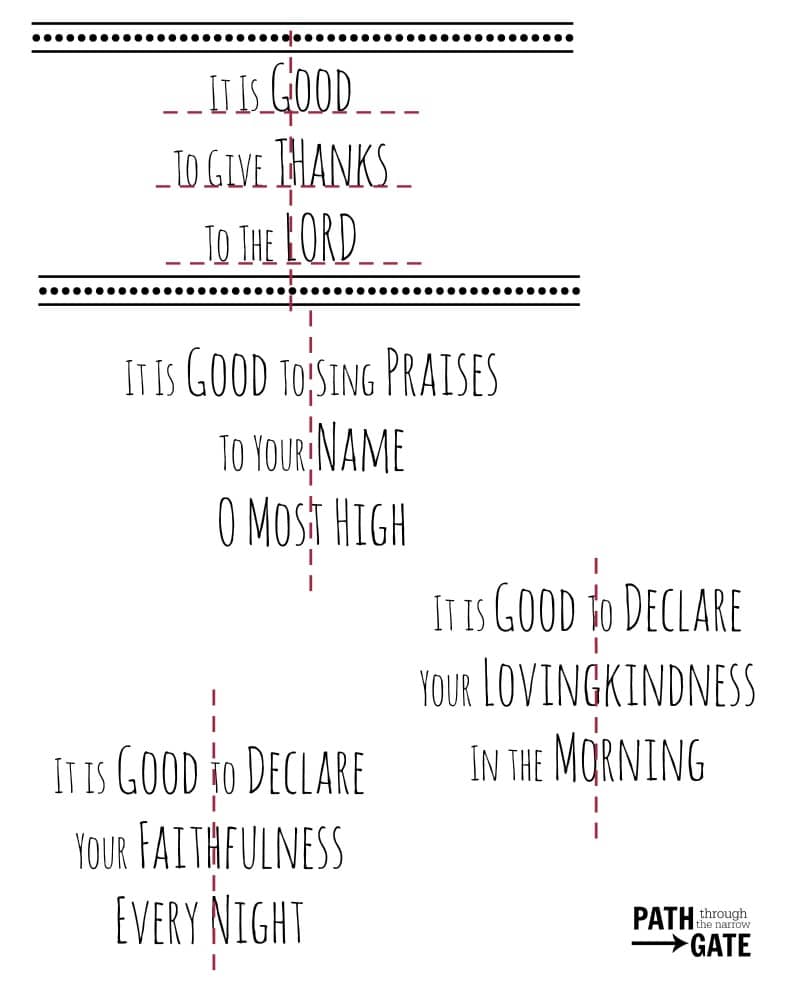 2. Using a pencil, draw lines onto your mug (center line and horizontal lines for wording.)
3. Using a pencil, write your wording onto the lines. On the left side of the verse, you may want to start at the center line and work left (backwards) so that the verse is centered. You can write normally on the right side of the center line.
4. Once your lettering looks the way you want it to look, prep your oil marker according to the package instructions. Then carefully trace your pencil lines with the marker. If you make a mistake, you can wipe it with a wet cloth and then scrape the ink off with your fingernail.
5. When you are finished designing your mug, let the ink dry for two hours. After two hours, carefully wipe the mug with a damp cloth to remove any remaining pencil smudges or finger prints.
6. Place the mugs in a cold oven. Close the door. Set the oven to bake at 425°F. Set a timer for 50 minutes. When the timer beeps, turn the oven off but do not open the oven door. The sudden introduction of cool air into the oven could cause the mugs to crack. Let them cool off in the oven for about an hour and a half before removing.
7. You are done! Enjoy your mugs. It is probably best to hand wash these mugs.
These personalized coffee mugs with scripture verses were so much fun to make! This is a great project for kids. I wrote verses on mugs for my kids and then allowed them to decorate the mugs around the verses. My kids are six and eight years old. They had a blast with this project and have been using their own "special" mugs ever since. The only disappointment was that the colored ink did change in the oven.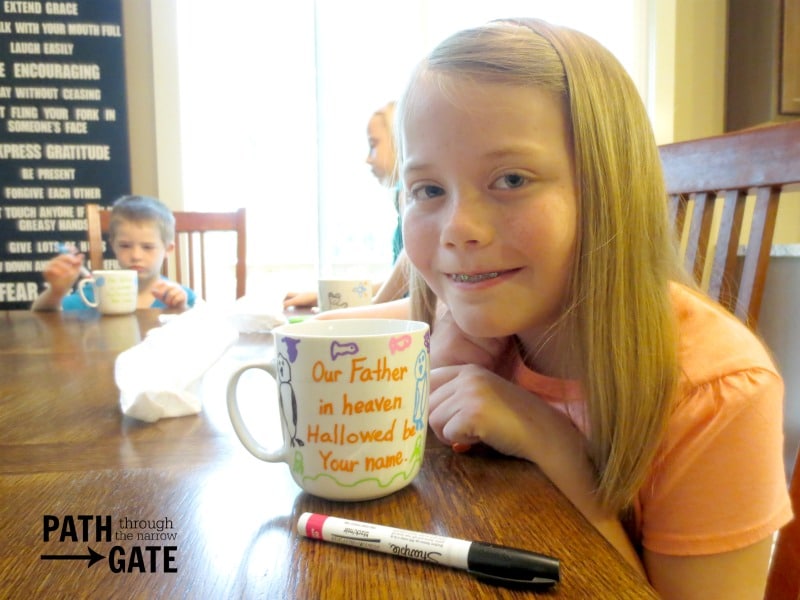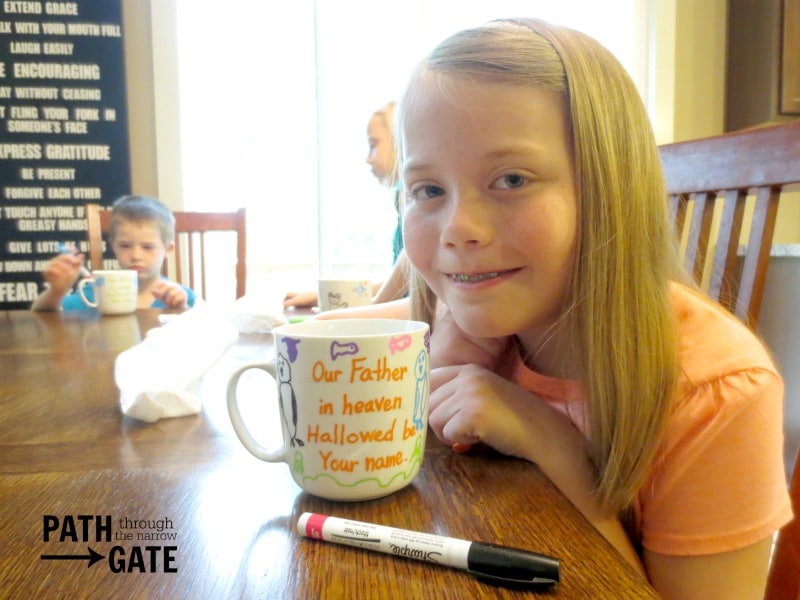 This project was inspired by Jessica Begum's project on E-How. Check out her ideas here!
Nine months later: Unfortunately, these mugs do not last forever! I wish they did. Here is a picture of my mug after nine months of light to moderate use. I have thrown it in the dishwasher and everything else.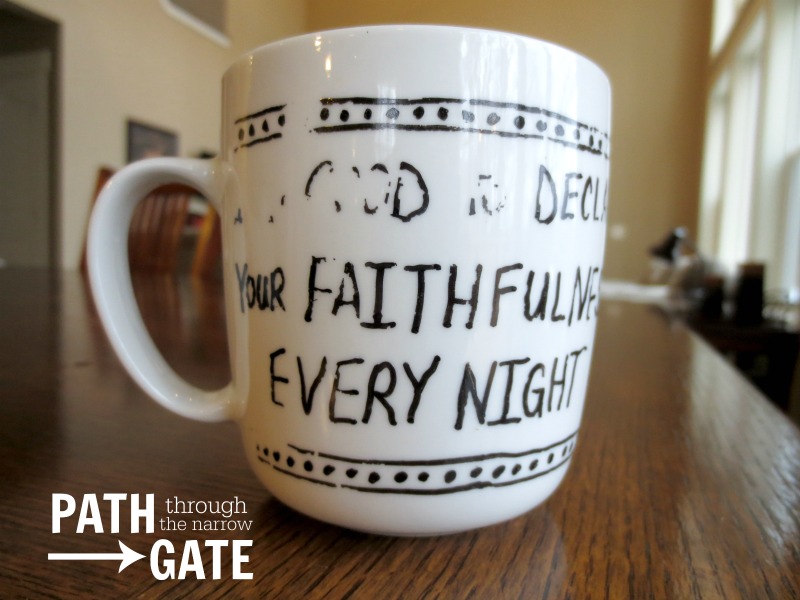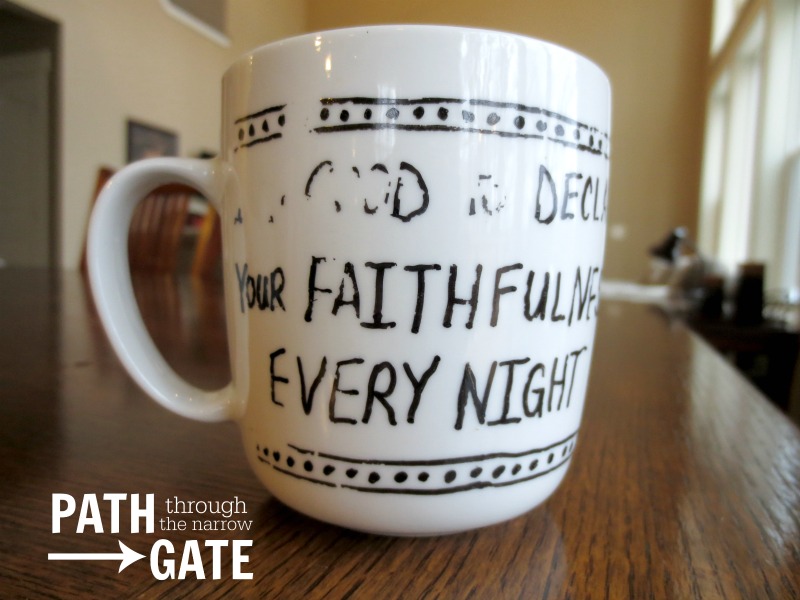 I would still make these mugs, though. I am considering touching it up and re-baking it. I have a feeling that different markers are going to give different results, too. The colored markers washed off very quickly compared to the black markers.  Hope this helps!
More Posts from Path Through the Narrow Gate: