This printable paper Easter scene is super cute, fun to make, and your kids will love individualizing it to make it look exactly the way they want it to look!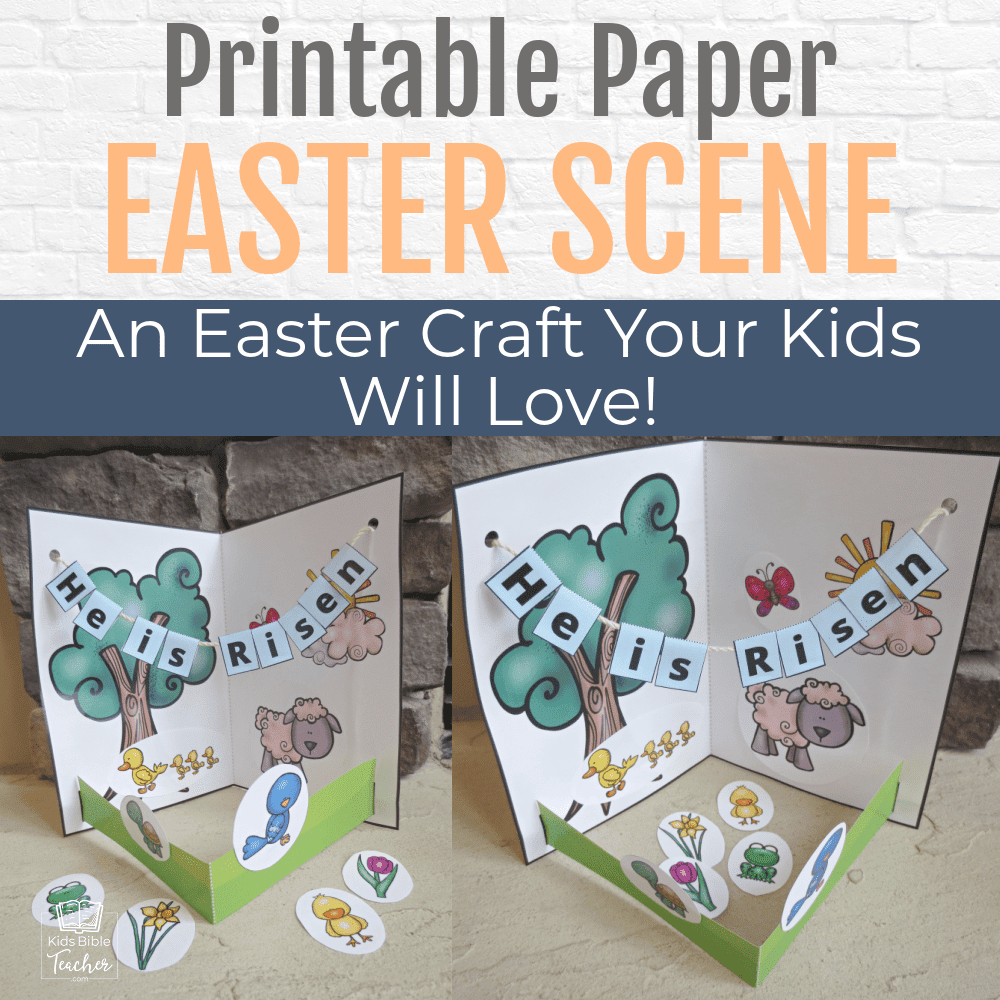 Remind your kids of the true reason for Easter with this sweet craft, complete with the message from Matthew 26:8 – "He is risen!"
Materials Needed:
One copy of the two pages for each child, printed in either full color or black and white outline so that kids can color their own. (Do NOT print double sided.)
A piece of string, yarn, twine, or thin ribbon, about 12 inches (30 cm) per child
Scissors
Tape
Glue
Crayons, Colored Pencils, or Washable Markers if desired
One hole punch per many children
Directions:
Cut out the large background rectangle with the tree on it along the outer thick black lines. Fold the background in half along the dotted center line so that the pictures are folded inside. Open the background back up.
Use scissors to carefully cut the two black slits on the bottom. (Adults should do this!)
Use a hole punch to punch a hole at the two black dots along the top.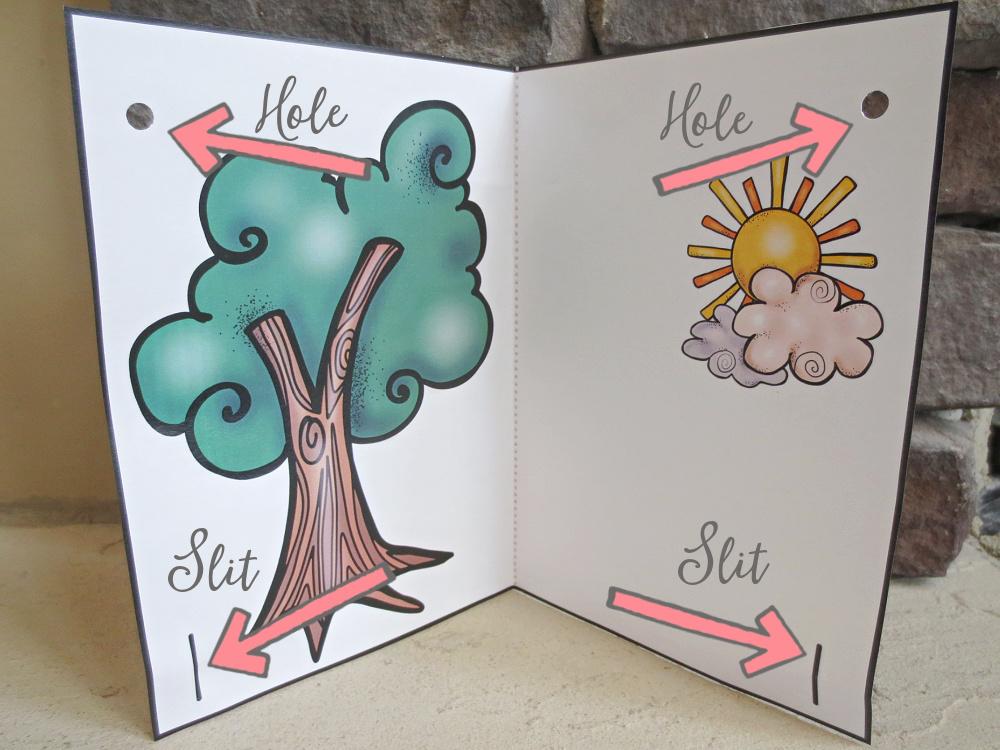 Color the background as desired.
Take the second page and cut out the grass. Color the grass if desired. Fold the grass along the center dotted line, so that the front side of the grass is on the outside of the fold. Unfold and insert the grass tabs into the slits on the tree rectangle. The back piece will be folded backwards and the grass is folded forwards so that the scene can now stand up.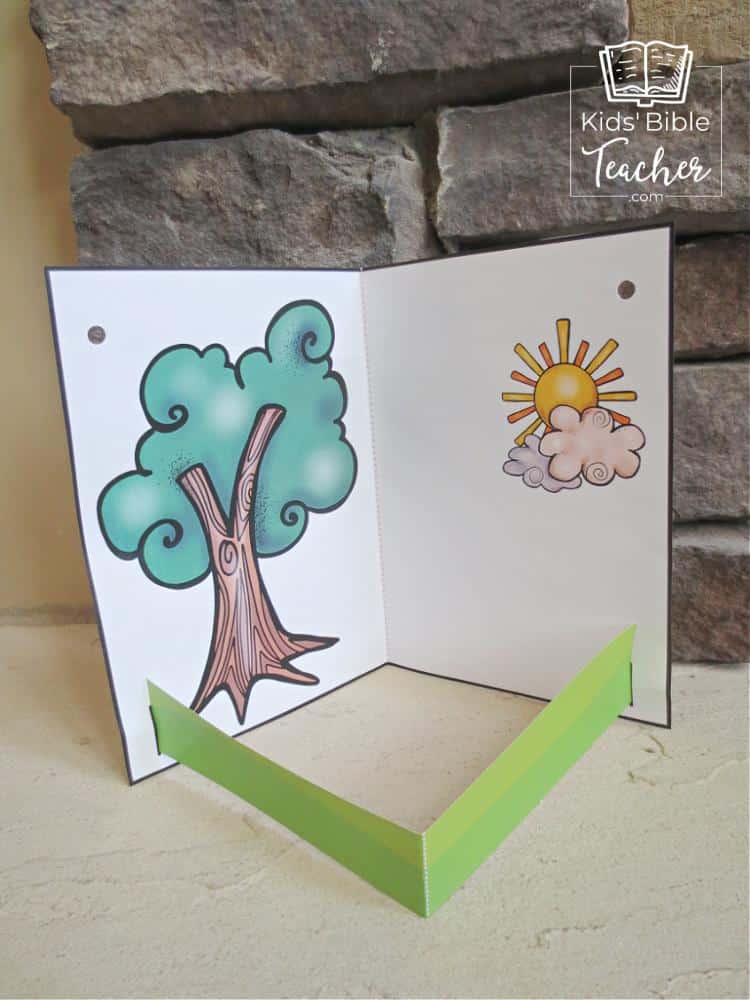 Cut out the "He is Risen" rectangle along the outer lines. Then, cut the individual letters apart. DO NOT CUT the dotted lines. Fold each letter along the dotted line so that the letter is on the outside.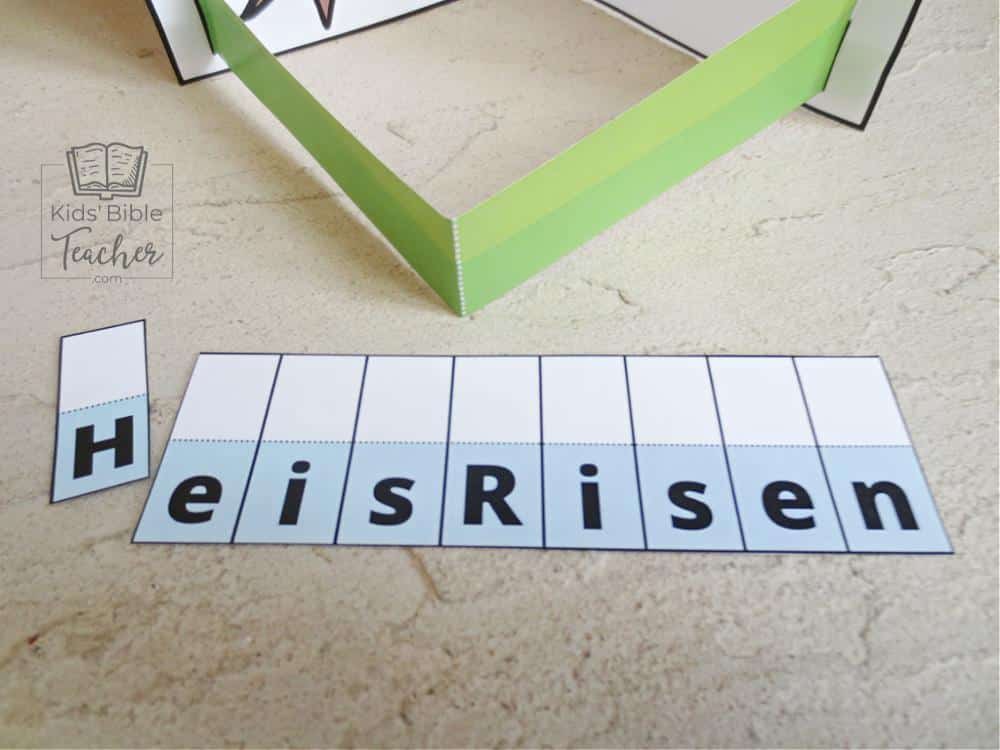 Push one side of the string, yarn, twine, or thin ribbon through the hole on the left side of the background. Tape it to the back. Push the other side of the string through the hole on the right. Pull it to the desired length and tape it to the back.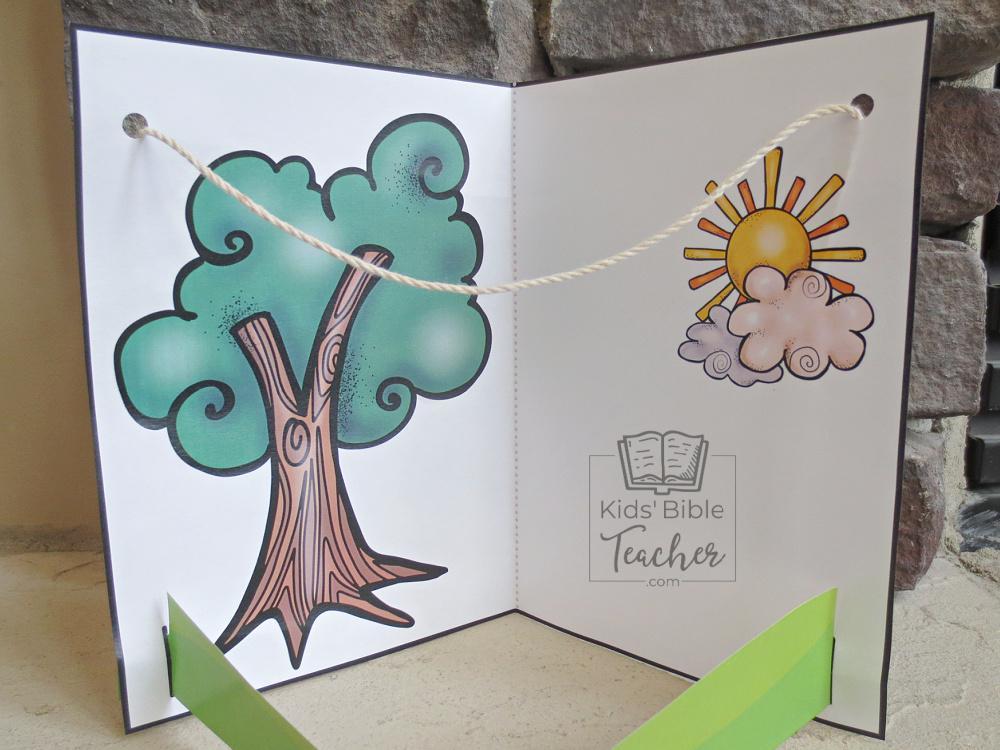 Starting with the folded "H" letter, put a small dab of glue at the bottom inside of the fold. "Hang" the "H" on the string, then push the bottom together to secure. Continue with all the letters in order until the banner is complete, reading "He is Risen". You should be able to adjust the letter spacing after all letters are on the string.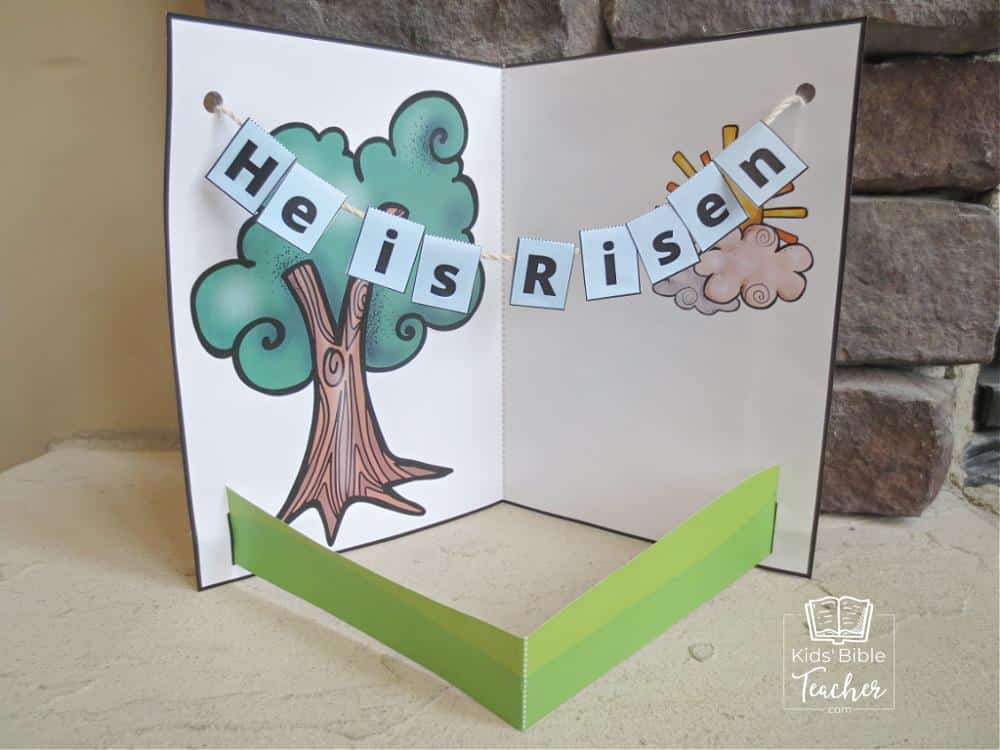 Cut the animals out along the gray circles. (Older kids could do more precise cutting, if desired.) Tape or glue the flowers and animals where desired in the scene.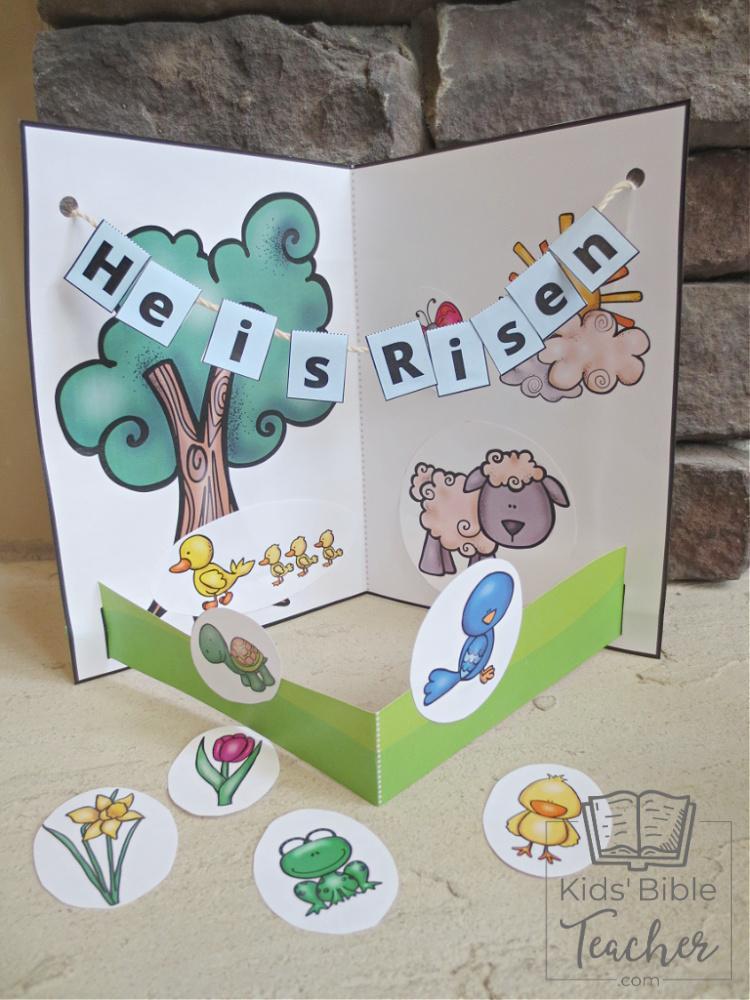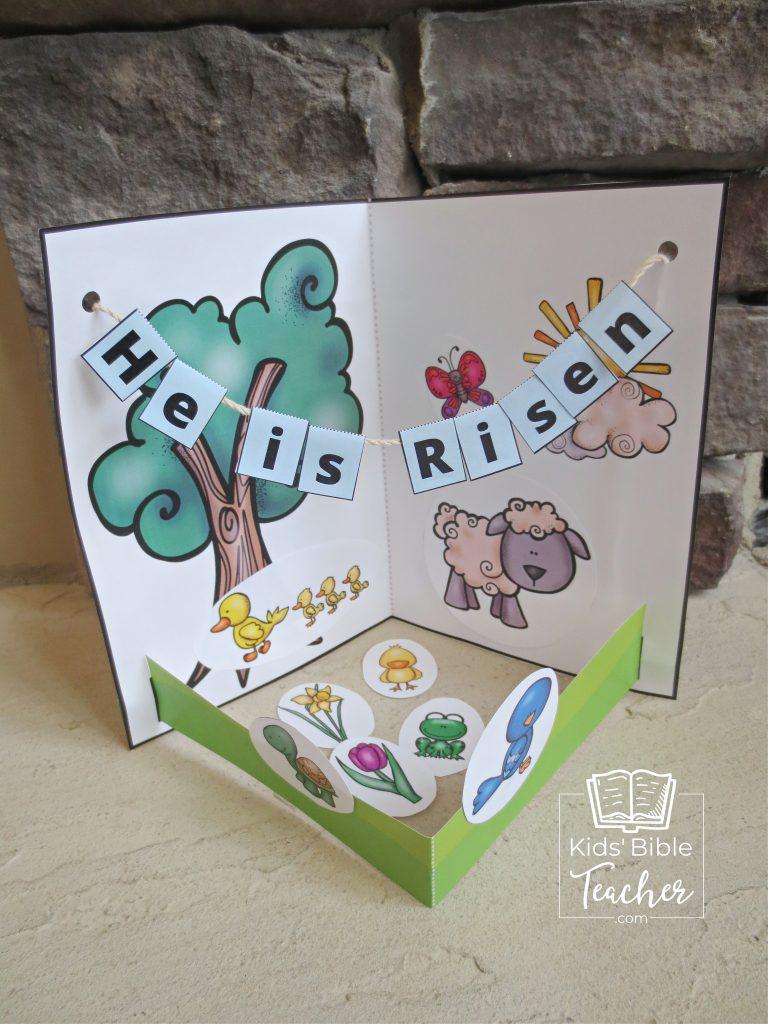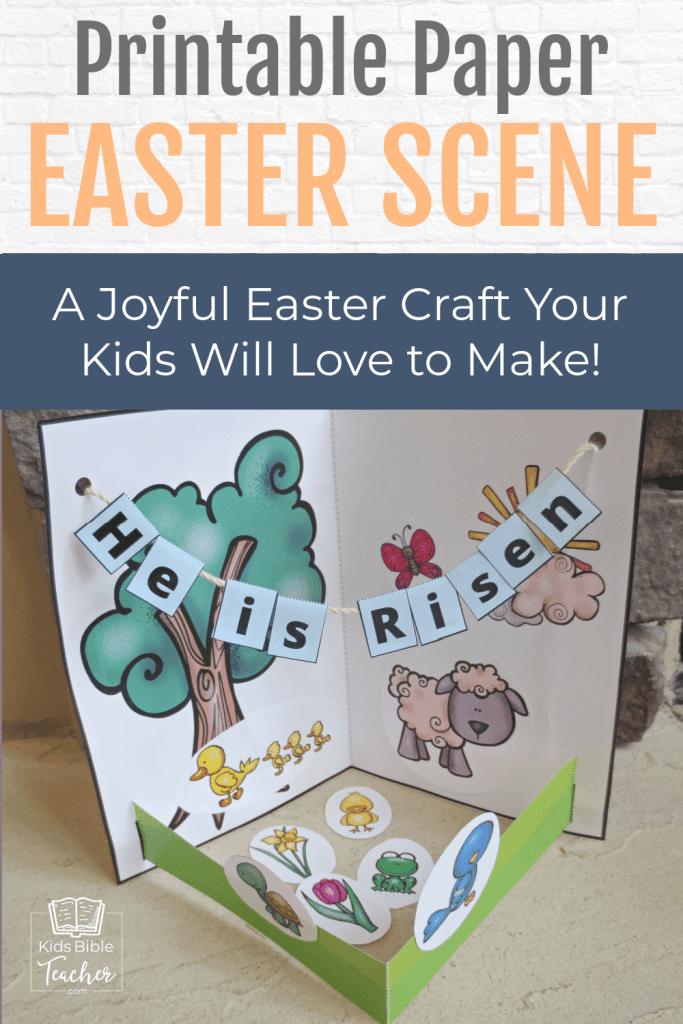 Will you be making this paper Easter scene? If so, I would love to hear how it goes or your own suggestions on how to use this craft. Please scroll down to comment.
May God bless you!