Are you teaching your children how to pray?
If you are a Christian parent, you know the importance of prayer. You probably also have a desire to teach your children to pray. So, let me ask you: Are you intentionally teaching your children to pray? If not, why not?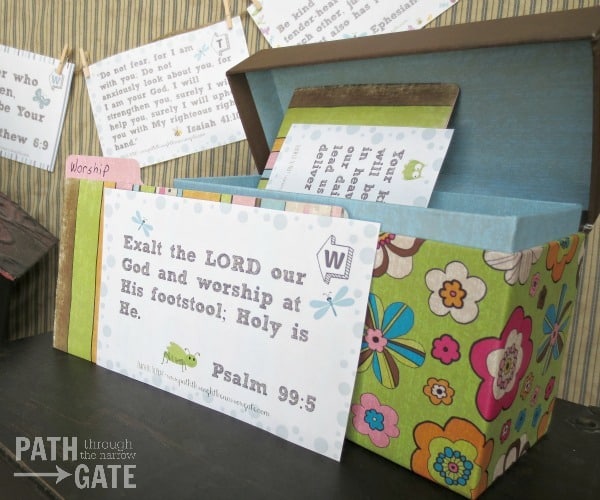 God wants us to pray and He is able and willing to help us to learn. When the disciples asked Jesus to teach them to pray, He graciously gave them a model prayer to pattern their own prayers after. God has also given us many other examples of inspired prayers throughout the Bible. And, if that is not enough, the Holy Spirit is within us ready and willing to help us pray as we ought to (Romans 8:26-27).
Inspired Models for Prayer
Many of the inspired prayers of the Bible have common elements of worship, thanksgiving, petition, and confession of sins.  Teach us to Pray Verse Cards is a free printable which takes verses from throughout the Bible and places them into these different categories. By using one card from each category each day, you can teach your kids to start prayer with worship, then move into petition, confession of sin, and thanksgiving. The Teach Us to Pray Easy Verse Cards Set One is the first set in this series and is designed for young children. Because of this, the verse selections are short and simple.
With each verse, ask your family what this verse teaches you about that category or what this verse encourages you to pray for within that category. For example, if your category is thanksgiving, you could ask what the verse teaches about thanksgiving or how this verse encourages thankfulness. Young children will not be able to do this on their own but will greatly benefit from hearing their parents pray through these verses. Here are some examples: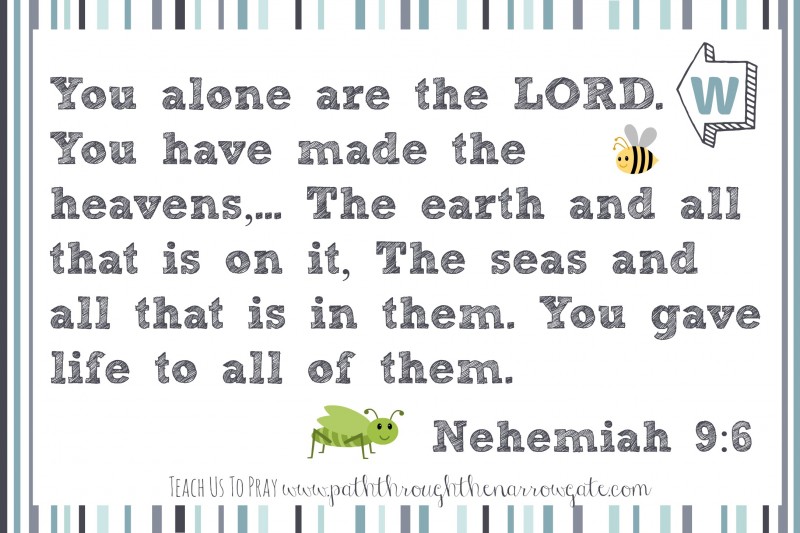 The "W" in the top right corner indicates that this verse card focuses on worship. After reading this verse, you may choose to worship the Lord in your own words for His amazing creation.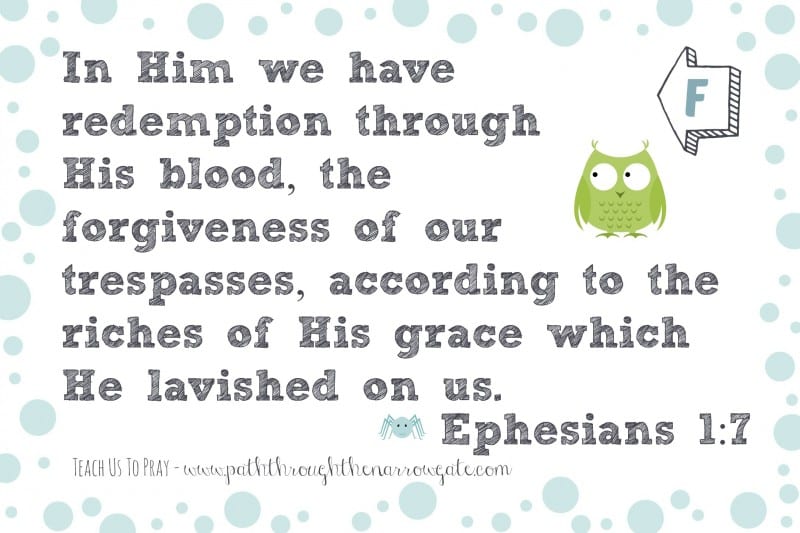 The "F" on this card stands for forgiveness. After reading this verse, you could confess your sins to God and thank Him for the undeserved forgiveness that He offers us through Jesus' sacrifice in our place.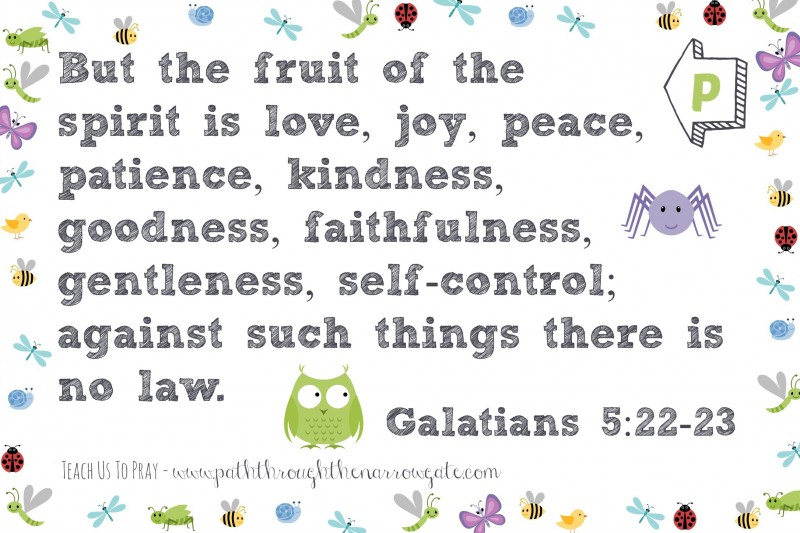 The "P" on this card stands for petition. You could ask God to help you have the fruit of the spirit in your own life or in the lives of the people that God lays on your heart for prayer.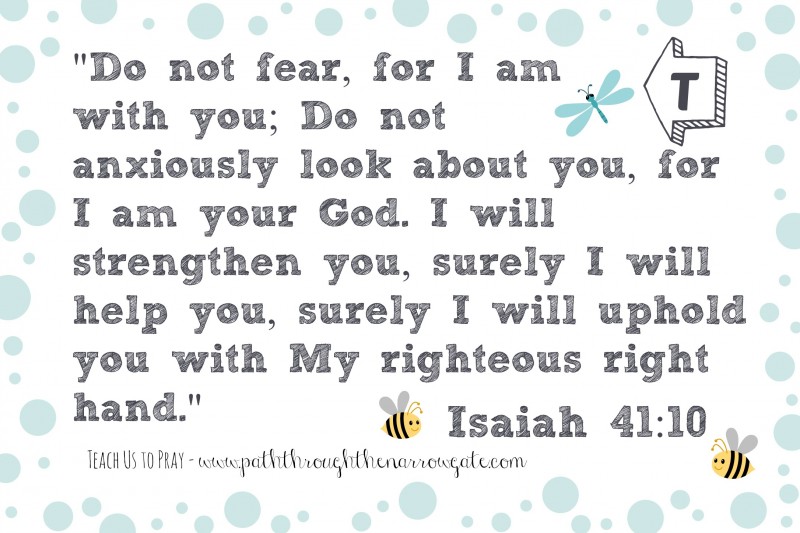 Finally, the "T" on this card stands for Thanksgiving. You could thank the Lord for the help and strength that He has given to you and to your family or for the other people that you are praying for.
These verses can be prayed in any circumstance
Because these verses are from the inspired Word of God, they will fit your current circumstances. For example, my family has been praying for my sister who is pregnant. We could worship God through Nehemiah 9:6 for being the great creator God Who has made all the world and gives life to infants within their mothers' wombs.  Praying Ephesians 1:7, we could thank God that He has already made a way of salvation for this tiny sinful human and pray that she will confess her sins to God as she grows older. We could use Galatians 5:22-23 to pray that God would bless both the infant and her mother with the fruit of the spirit. Finally, we could thank God that He is able to strengthen and watch over this baby and her family according to Isaiah 41:10. We could pray that this little person would come to look to God for her strength and salvation. Without these verses, I would probably just ask God to "watch over this baby and keep her safe." Do you see how much richer praying the Word of God is?
Is praying this way work? Yes. Does it take some time? Yes. Is it worth it? Yes! Oh, what a blessed difference this has already made in my own prayer life! As we choose to pursue God through prayer, prayer becomes not an obligation but a joy and a delight, a little piece of heaven here on earth.
2 Timothy 3:16 says "All Scriptures is inspired by God and profitable for teaching, for reproof, for correction for training in righteousness; so that the man of God be be adequate, equipped for every good work." I think that maybe, just maybe, the inspired Word of God is enough to teach us to pray as well. May these verses be a blessing to you and your family and may we learn to pray as God would have us to pray.
How to use the Teach Us to Pray verse cards:
The prayer cards are 4×6 inches and can be placed in a 4×6 inch card box holder or a recipe box, with dividers to separate the categories. They can also be glued to 4×6 cards, laminated, or covered with contact paper for added durability.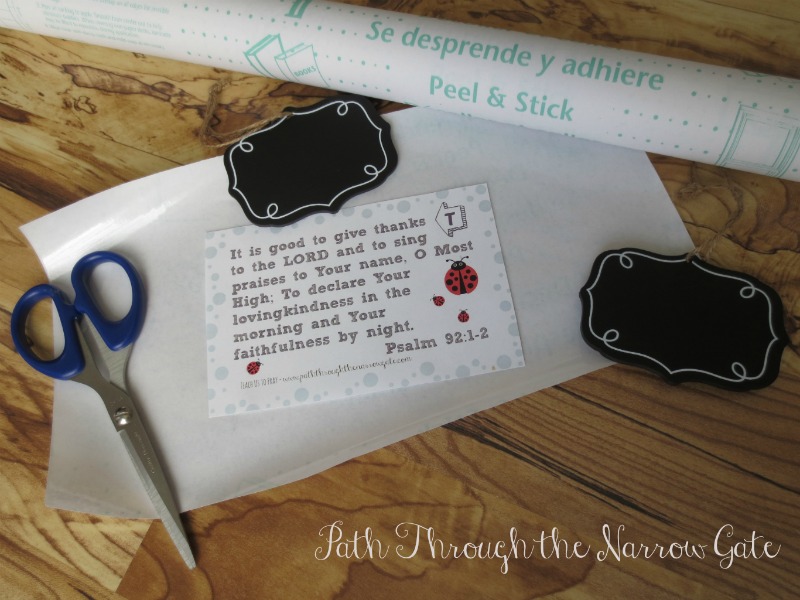 There are seventeen pages in this set, which includes six verses and two blank cards for each category. The blank cards are provided for you to fill in with your favorite verses. All verses are taken from the New American Standard Bible.
May God bless you!