I struggle with prayer.
I find it so easy to fall into a rut, muttering a few generic prayers in the morning and in the evening for the safety and health of my family and friends before rushing off to do the "important" things that need to get done – like getting breakfast on the table or school papers organized for the next day.
In my heart, I know the importance and privilege of intercessory prayer. And, how I long to be able to really pray with boldness for the people around me, the people that I love.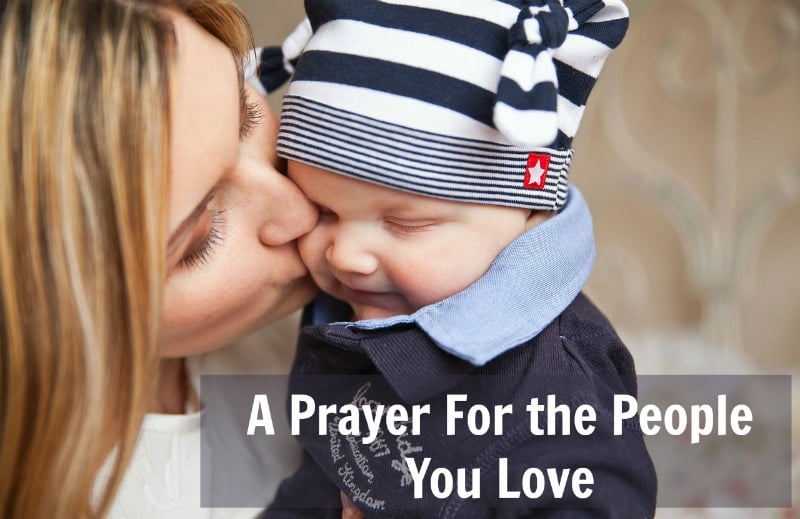 God calls us to prayer. There is no work more important. So why do we often fail in this area?
Often we fail because we have misplaced priorities. Sometimes we also fail because we do not understand how to pray with confidence and conviction. We do not know how to pray according to the will of God. Perhaps we do not really know how to pray.
Fortunately, the Apostle Paul gives us some wonderful, inspired examples of what intercessory prayer should look like.
Paul's prayer for spiritual growth for his friends in Colossians 1:9-14 is a great place to start praying for our loved ones. This passage shows us 5 essential things to pray for people we love. You can use this passage as a prayer prompt to specifically pray for your kids, your spouse, your pastor, or your neighbor.
I find that this prayer blesses my heart every time I pray it as it reminds me what the important things in life really are.
As you pray this prayer, insert the name of the person you are praying for at each ♥.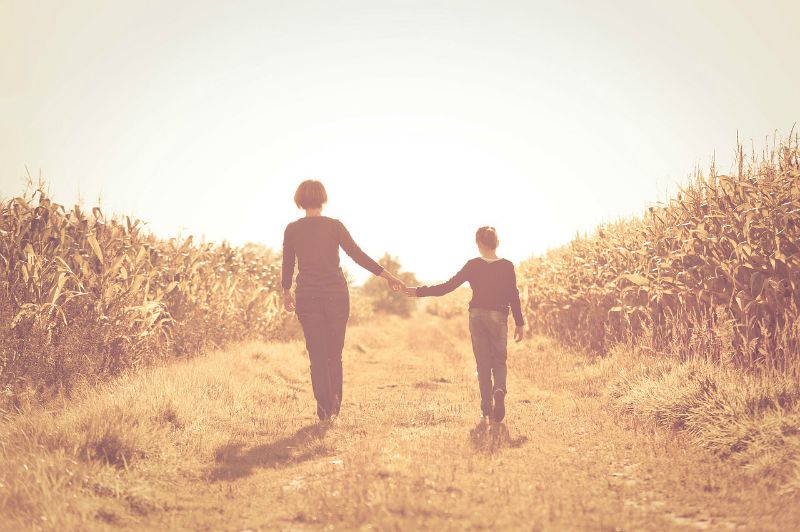 Praying Colossians 1:9-14
1. Pray that ♥ will know God's Will
Ask that ♥ will be filled with spiritual wisdom and understanding so that he will know God's will for his life. If he is not a believer, pray that God would open his heart so that he can have this spiritual wisdom. Pray that ♥ will put a high value on seeking after God's will for his life.
2. Pray that ♥ will follow God's Will
Pray that ♥ will not only know God's will, but walk in it, in a manner worthy of the Lord, living his life in such a way that God would be pleased with his obedience.  Pray that his life would be filled with spiritual fruit and that God would use him for good in His kingdom work.
3. Pray that ♥ will grow in God.
Pray that ♥ will increase in the knowledge of God. Pray that as his problems in life get bigger, he would also come to know how great in majesty and power his Heavenly Father truly is. Pray that he would come to know and love God more and more as he gets older.
4. Pray that ♥ will be strengthened by God.
Pray that ♥ will be strengthened by God to handle difficult circumstances or trials (patience) and put up with difficult people (steadfastness) in a God-honoring way. Pray that God will prepare him and strengthen him to meet life's challenges and temptations in a way that will bring God honor and glory. If he is not saved, pray that God would use these trials to bring him to Himself.
5. Thank God for His glorious plan of salvation.
If ♥ is saved, thank God for providing such a wonderful plan of salvation for his rescue (and your own!) Thank God that He sent His Son to die for ♥ so that ♥'s sins might be forgiven and that he can now look forward to spending an eternity in heaven.  If ♥ is not saved, still thank God for providing such a wonderful plan of salvation and pray that God would open his heart to accept it.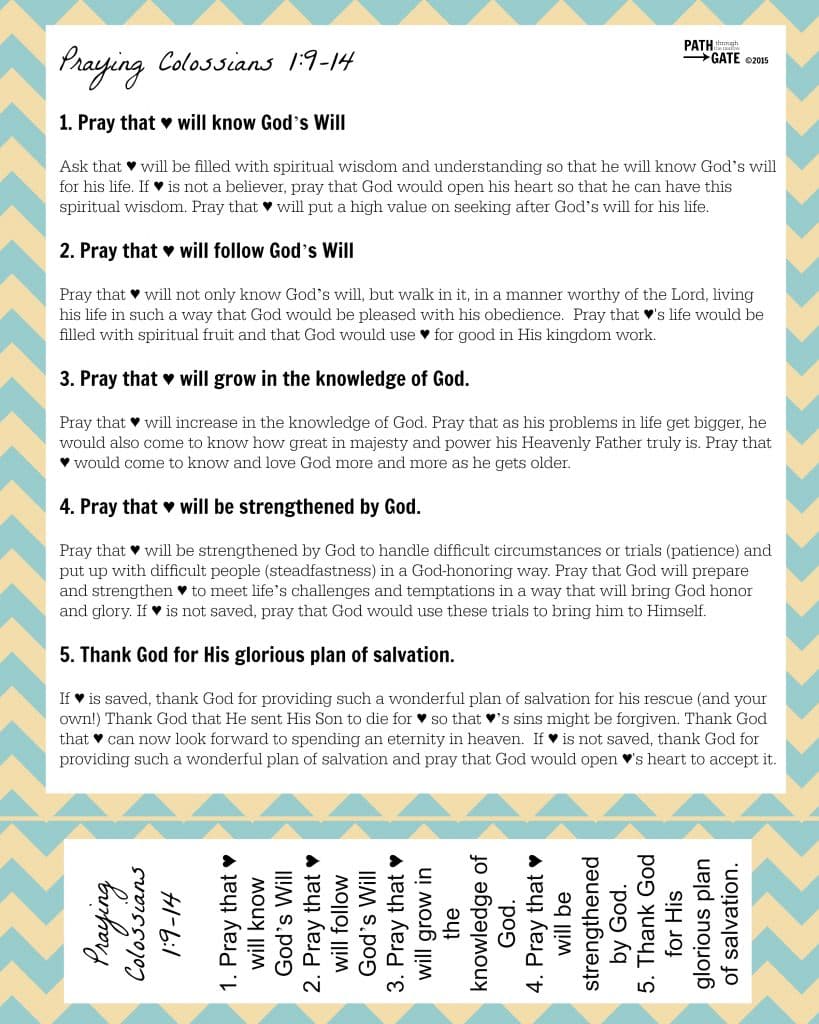 Would you like a reminder of this prayer? Print the [Colossians 1:9-14 Prayer Prompter and Book Mark] so that you can remember to pray this prayer often.
Chevron Background by Mr. Jimmy
More Posts From Path Through the Narrow Gate: