When I first started teaching Sunday School a couple of years ago, I wanted to challenge my kids to come to class regularly, bring their Bibles, and do their best to memorize the Bible verses.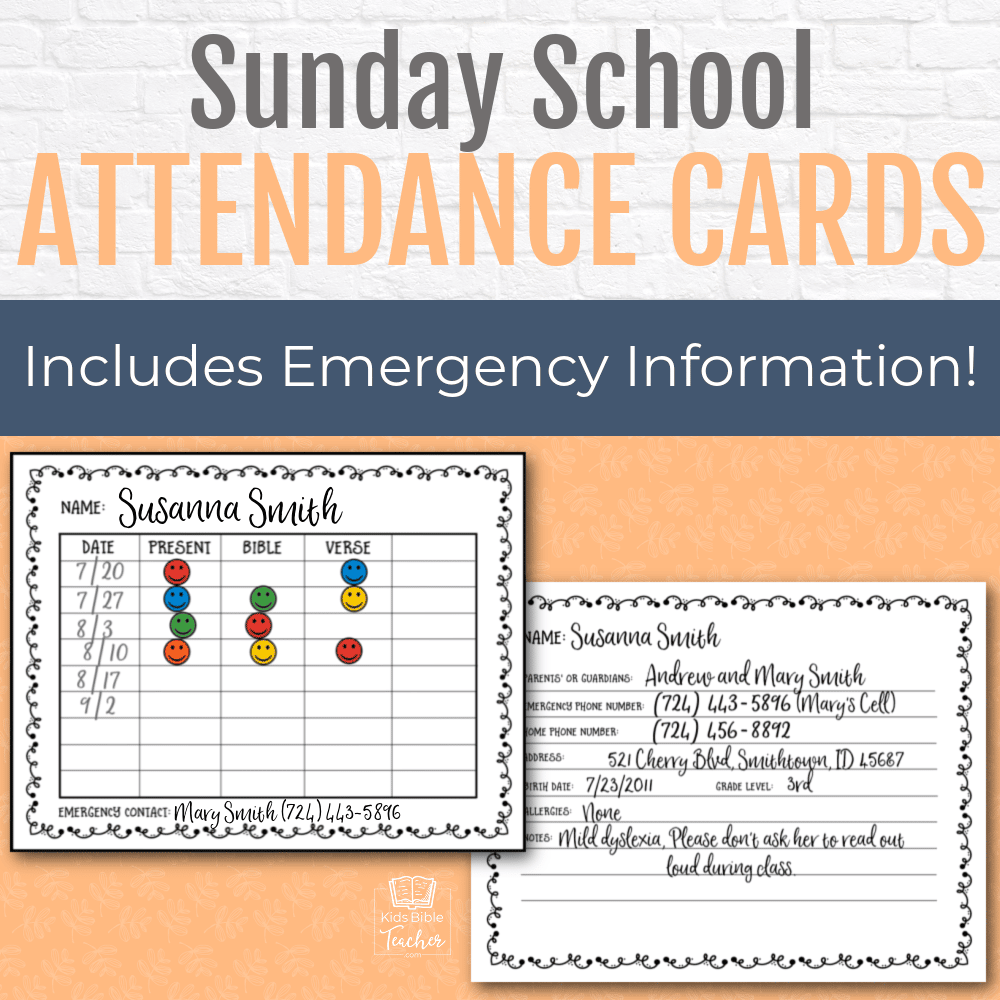 In order to make it fun, I set up a point system, complete with a "store" every few weeks offering prizes. Each prize could be purchased with points earned for being present, bringing a Bible, and saying the verse.
Of course, that meant I had to keep careful attendance records. Surprisingly, I was not able to find any predesigned attendance sheets that fit my needs. So, I made my own. I'm hoping that these Sunday School attendance cards will come in handy for you, as well.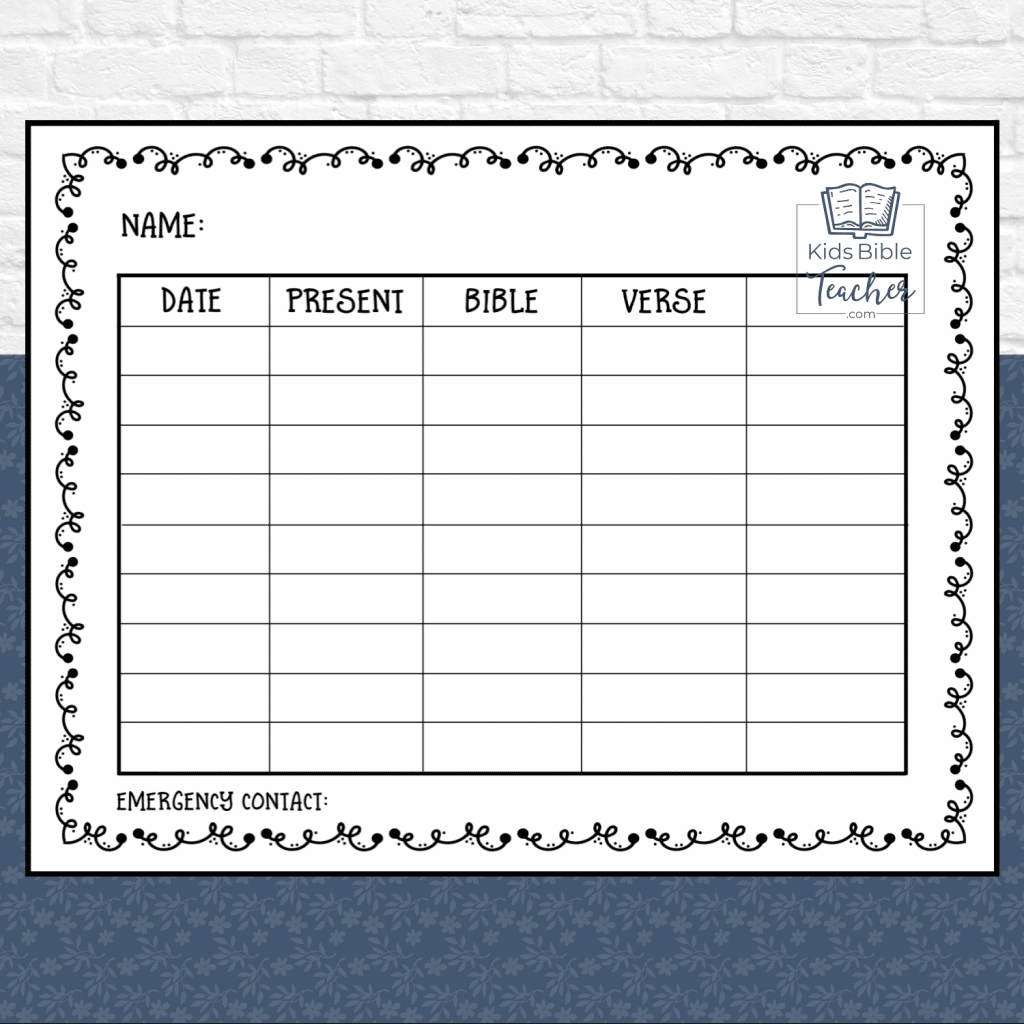 These Sunday School attendance cards are designed to be printed on regular 8.5 X 11 inch paper or cardstock, double sided. You will get two cards per page.
The front of each card acts as the attendance record, with columns to record whether your kids brought their Bibles and said the verse that week. You can write a check mark in the columns or use small stickers.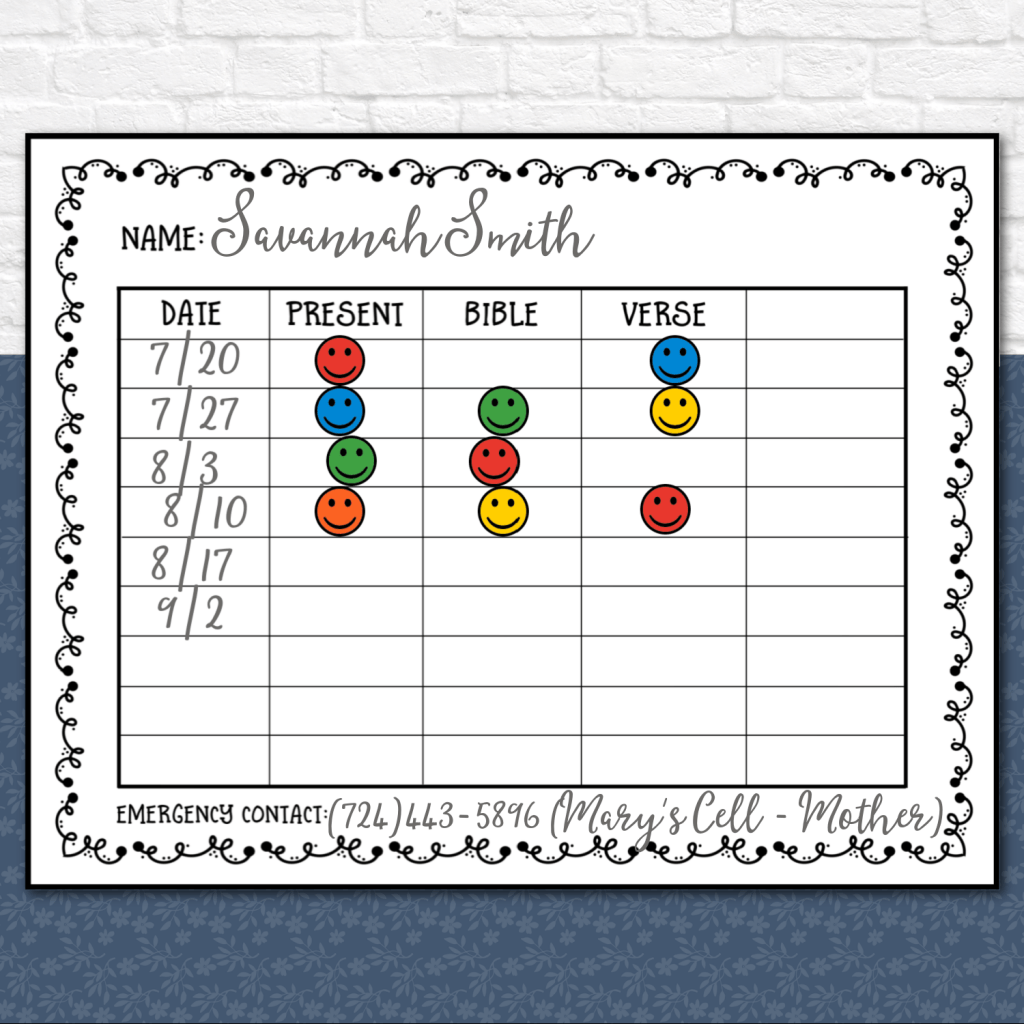 (Totally off topic – Not all kids have their own Bibles to bring, so we had a stack in the back of the classroom for kids who might not have a Bible or forgot to bring it. BUT, in order to get credit for bringing a Bible, they had to be responsible to grab a Bible from the stack before the lesson started.)
There is also a blank column on these cards in case you have something you need to add for your own class.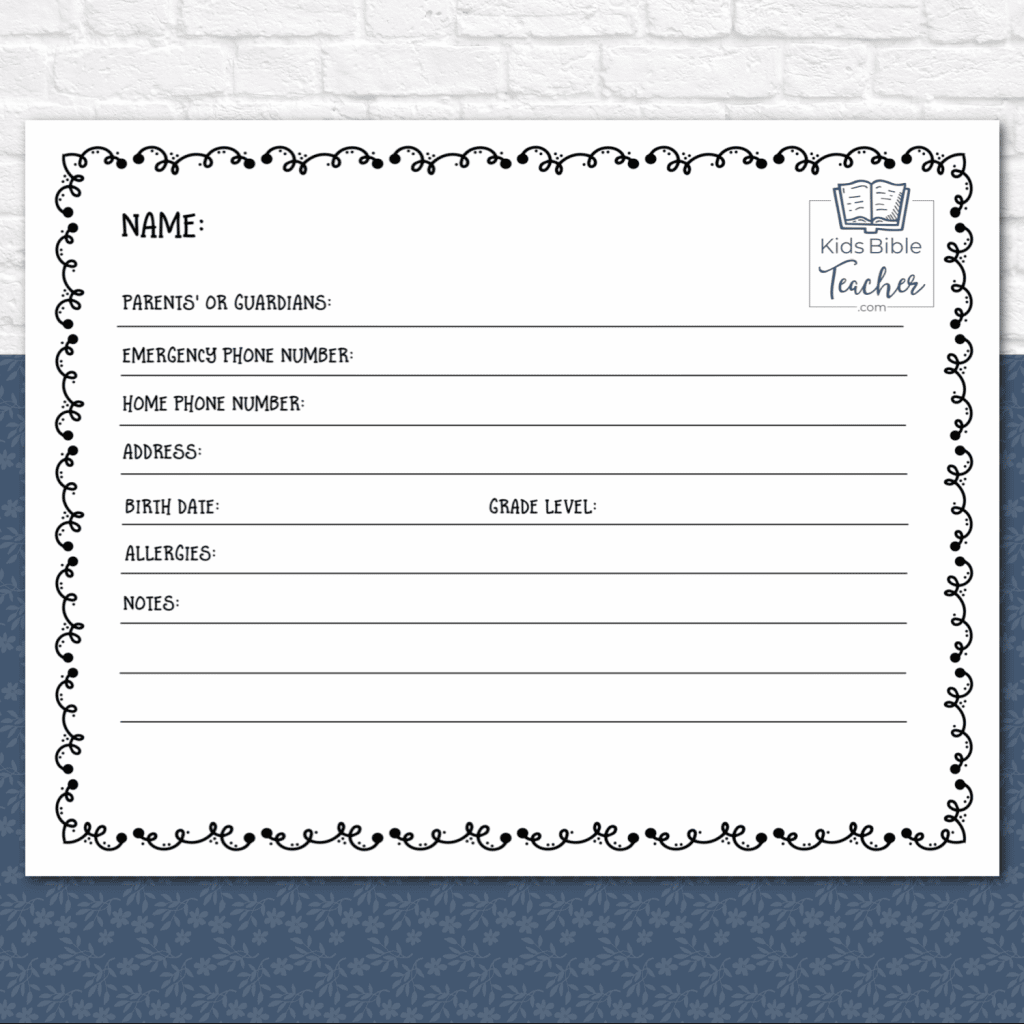 The back of each Sunday School attendance card includes space for recording information about the student, including parents' or guardians' names, emergency phone number, address, birth date, grade level, allergies, and any other notes. This is information is great to have on hand. These cards also make it easy for a substitute teacher to find this important information.
You could ask parents or guardians to fill out this side of the card when they first drop off a student.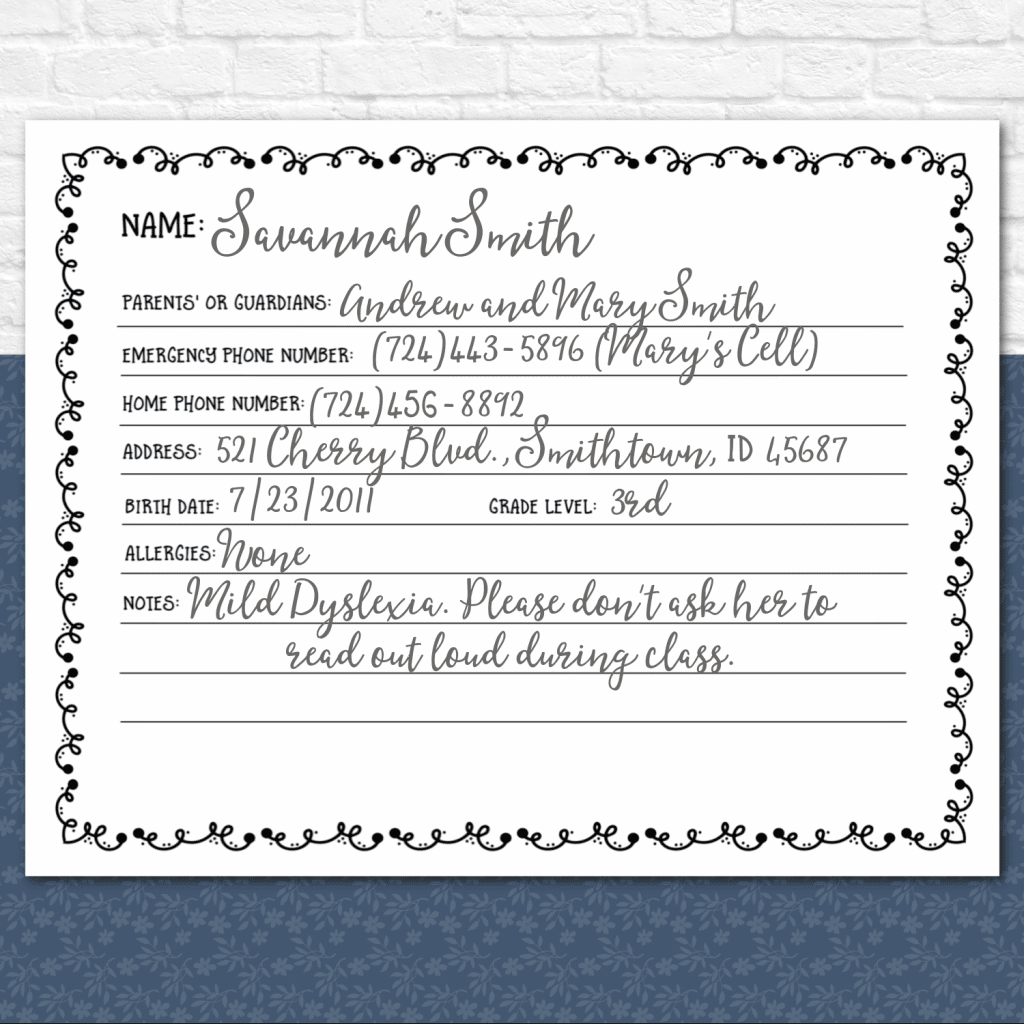 You can also edit or fill out the cards on the computer before printing.
Punch a hole in these cards and keep them on a binder clip or place them in a box.
I hope these Sunday School attendance cards are a blessing to you. Click the link below to download your own FREE copy.
If you do use them or have any suggestions, I would love to hear your thoughts. Please scroll down to comment.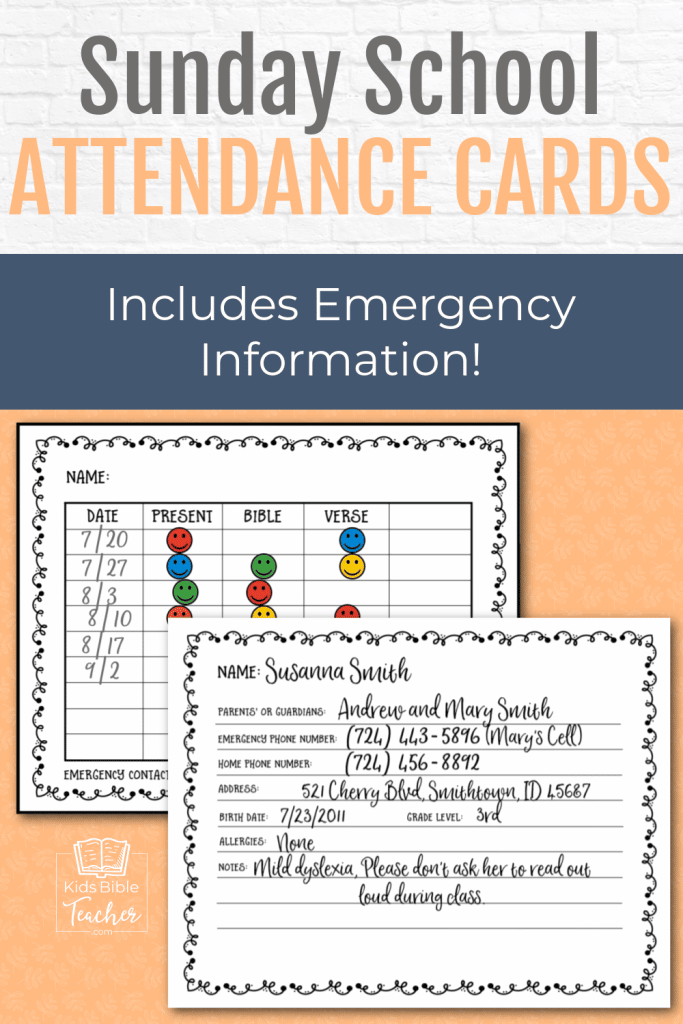 May God bless you.